One of the most competitive middle school physics competitions in the UK
Top students from the UK and China compete together for the top awards
Designed to engage and challenge middle school students of all abilities Provide Chinese paper
Written test in preliminary and experiments in final
Beneficial for applying science majors in top universities
Final: August 22-23, 2020
The British Physics Olympiad is a charitable trust overseen by a committee of trustees. It was initiated in 1979, and has been used as a qualifier for the selection of the UK Physics Team for the International Physics Olympiad since 1983.
The topic of the questions will be ranging from Dynamics, Electricity, Optics, Heat, Units, Waves, to astronomy. The Junior Physics Challenge competition is designed to engage and challenge students by offering them a range of problems to solve. They might be shown some pictures of famous physicians and asked to identify one (For example, Hawking, Galileo or Newton). Hence, some general knowledge and interest in physics would be an advantage. The main objective is to create fun, encourage involvement and inspire passion for physics among students.
ASDAN China (ASDAN Academy) and the British Physics Olympiad committee have been working together to bring the competition to China from 2019. Chinese and British students will compete together for the awards. Junior Physics Challenge is composed of written and experiments. It aims to inspire middle school students to learn physics, observe, practical skills and critical thinking.
Language
English and Chinese
Date
Final: August 22-23, 2020
Participants
Middle school students
Format
Preliminary: Individual, Written Test
Final: Experiment (The final includes 3 rounds of experiment-based challenges. Each round focuses on different topics, such as experiment design, scientific phenomena presentation etc. Judges will grade teams on every experimental step.)
Type
Preliminary: 60 multiple-choice questions
Final: The final examination includes 3 rounds of experiment-based challenges
Location
Preliminary:
• Online (exam computer or phone must be equipped with a camera)
• Exam Centers across China
Final: Uncertain
Awards
Preliminary Global awards
Preliminary National awards
Regional Honorable awards: Regional top 10% (After global award)
(For judging the global awards, British competitors will be ranked first by their overall scores, creating boundaries for the gold, silver and bronze awards. Competitors from other countries are not ranked together with their British competitors, but are compared by the boundaries. Chinese competitors with good results will therefore have an increased chance of receiving an award.)
Online Camp and Online Experiment Final
Online Final
Organizer
British Physics Olympiad
ASDAN China
Date
August 22-23, 2020
Participants
Awarded students in 2019 British Junior Physics Challenge
Format
Individual competition, doing experiment with remote monitoring (contestant should prepare notebook or mobile phone with camera, and finish the experiments with apparatus toolkit provided by the committee)
Awards in Final
Gold
Silver
Bronze
Online Training Camp
Date
August 17th-23rd (5 days camp+2 days final experiment competition)
Seats
Up to 60 students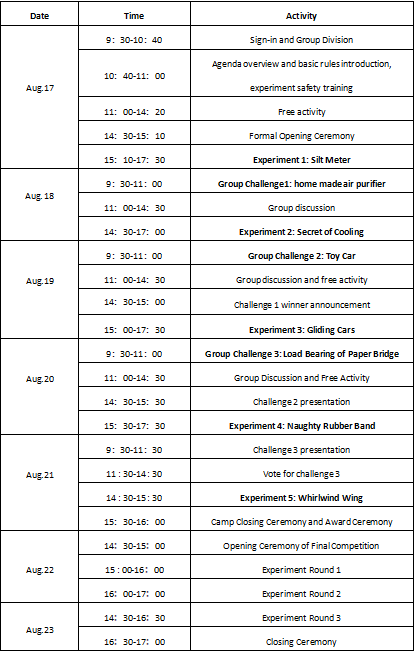 Fee
Preliminary: Includes the exam fee, proctor fee, grading fee, past-papers and one online mock exam (ASDAN doesn't provide any trainings)
Online mock exam will be open 24 hours after registration deadline
Final: Includes academic materials and equipment fee
Registration deadline
Preliminary: 15th November, 2020 (Exam center),21st November, 2020 (Online)
Final:Uncertain
Academic materials
Preliminary: Sample questions
REFUND POLICY
If, for some reason, the student is unable to attend after paying the fee, please contact us. If you apply before the registration deadline, 25% of the registration fee will be deducted as academic materials and service fees. If you apply after the registration deadline, no refund will be given.