Highlights
Linking the East and the West, The Silk Road played a major role in commodity exchange as well as acting as cultural bridge between those 2 regions. As we believe in continuous skill improvement, this Silk Road tour is also an opportunity for students to experience the route through field research and be the director of their own documentary. Join us on this 13 day trip with stops in the city of Urumichi, the desert of Dunhuang and at the must see Terracotta Warriors of Xi'an.
Multicultural Experience
Our experienced team will accompany you to experience different culture and religion along the Silk Road.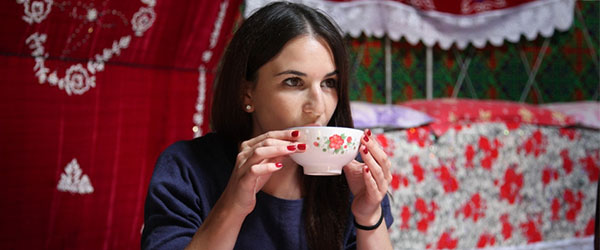 Field Research
Students are going to be divided into groups of 4-5 people for specific issue discovery: Culture, Religion and Trading. Students will visit the local people, interview them and finish group tasks by overcoming language barriers.
Make your own documentary
We designed the EXPLORE Silk Road trip to be an exciting and interactive learning experience, and what better way to learn than being the director of your very own documentary movie! You can choose which topics to focus on, such as trade, religion, food, economic development or any other aspect of culture. You will edit the documentary and present it at the end of the trip!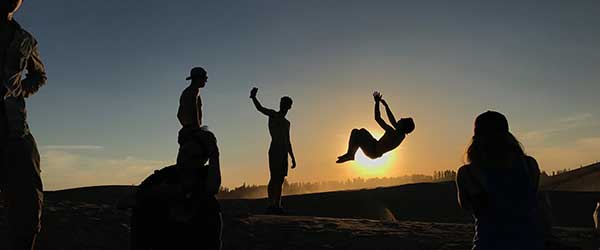 Make your own Silk Road documentary
| Place | Course Topics |
| --- | --- |
| Kazakh village | Uyghur dance and folk music study |
| Wind Power Station | Natural resource usage of West China, and the effects of West China's Development effect to overall China development |
| Sugong Muslim Mosque | Discover Islam, the beliefs of the Uyghur |
| Desert | Camel riding and camping in the Taklamakan Desert (China's largest desert), make a documentary and experience an ancient traders' life in the Silk Road |
| Dunhuang Mogao Cave | Buddhist Culture and History |
| Yellow River in Tibetan Highland | Life of Tibetan Nomads in China |
| Tibetan Village | Tibetan Cultural Presentation |
| Terror Cotta Warriors | Xi'an - how it became the center of the world |
| Uyghur Family | Uyghur dance and folk music study |
Learn team-working skills whilst making a video documentary.
Understand the history and importance of the Silk Road, and the effect it had on China as well as the West.
Understand the cultural differences between China's various ethnic groups, and experience the diversity which makes Western China so unique.
Understand how different cultures and religions mixed in the past compared to modern China and discover how people managed to live harmoniously.
Learn about the major religions and their followers, historically and today.
Sample Itinerary
Round 1: 19 - 31 July 2019 ; Round 2: 05 - 17 August 2019
Agenda
City
Breakfast
Morning
Lunch
Afternoon
Dinner
Accommodation
Day 1
Shanghai
Hotel
Arrival
Dinner
Hotel
Day 2
Shanghai/
Urumichi
Hotel
Wake up in Shanghai and fly to Urumichi to start exploring that Silk Road!
Lunch
You will start the amazing Silk Road adventure with an orientation session where all the international delegates and Chinese delegates can get to know each other for the first time! The team leader will also go through the agenda and explain your team task.
Dinner
Hotel
Day 3
Urumchi
Hotel
Visit the Kazak ethnic village and enjoy a traditional fresh lamb feast in Kazak nomad families! You can go hike, see a waterfall, interview the villagers,witness the Muslim lamb slaughtering ritual live, collect materials for your team documentary and further immerse yourself in this unique culture.
Kazak Ethnic Village ( Lamb barbecue,salty milktea)
Driving south-eastwards, on the journey to Turpan, we will pass by the world's largest wind power station where you can get an insight into China's green power ambitions. Visit Uygur family in Turpan, Talk to rural family and conduct interviews for documentary.
Have an authenitc dinner with Turpan Folk dance show.
Hotel
Day 4
Turpan
Hotel
This day will be begin by visiting the Sugong Pagoda which is an eye-catching Islamic pagoda built 200 years ago. You will also have the opportuity to interact with local Muslims and get an insight into Islam within China.
Xinjiang Food
Ruins of Ancient City of Jiaohe. On this day, view the ruins of Ancient City of Jiaohe. Jiaohe City was a major destination on the Silk Road Trade route until destroyed by Ghenghis Khan in the 13th century. Here you have the chance to see the relics of this city and imagine its former glory.
Dinner
Hotel
Day 5
Turpan
Hotel
Karez Base in Turpan. The total length of Karez is approximately 5000 kilometres. It's the wisdom from ancestors from thousands years ago. The secret oasis found in that extreme dry climate is just like the blood vessels in a human body. It irrigates the vast tract of land and fosters the area.
Lunch
Head to the railway station to go to Dunhuang. Check in Dunhuang
Dinner
Hotel
Day 6
Dunhuang
Hotel
Dunhuang Mogao Caves - the greatest Buddhist Caves in the desert with thousands of Buddha statues and precious paintings for students to marvel at.
Lunch
Hang around the city to experience the Dunhuang style! Then drive into the desert where a true camping adventure is awaiting you. As well as riding camels, you will also be able to surf on those dunes!
Dinner
Camping at night
Day 7
Dunhuang
Next to Desert
A pre dawn start is essential on this morning if we want to experience the special views. Then we head to the Dunhuang Museum to know more about this ancient city.
Lunch
Head to railway station to go to Qinghai.Check in Xining.
Dinner
Hotel
Day 8
Xining
Hotel
Visit the museum of Tibetan Medicine to understand this mysterious branch of traditional Chinese medicine. Then we head to the Tibetan area of Tongren.
Tongren ( lunch next to river)
We will visit a Tibetan family to learn about their daily life, then prepare for camping where we will be able to witness the sunset in the grassland.
Tibetan food
Hotel
Day 9
Tongren
Special Breakfast
Bask in the morning sunrise in the grasslands then hike in the village while exploring the diverse culture of the people living there– the higher you go the better the view!
Lunch
Visit a Tibetan Buddhist temple, religion plays a significant role in this region. Then visit a Tibetan painter. Learn about the intricate process of a Regong Art-Tangka painting. Get to understand and appreciate the arts and its significate for the people of this area.
Dinner
Hotel
Day 10
Xining
Hotel
Visit the village and interview Tibetan family to get to know their daily life and grasp a view of their special structure of their house.
Lunch
We head to the railway station for our next stop: Xian!
Dinner
Hotel
Day 11
Xian
Hotel
Cycle on the ancient city wall of Xian and feel rewarded with the scenic views of the ancient city.
Buffet
Giant Wild Goose Pagoda and the Muslim Street.Visit the Giant Wild Goose Pagoda, feel the pace of Xi'an and understand Buddhism's prosperity during the Tang Dynasty.
Dinner
Hotel
Day 12
Xian
Hotel
Visit the world famous Terra Cotta Warriors and the 8,000 terra cotta soldiers deigned to protect the first Emperor of China in his after life. This visit also serves as a great opportunity for you to collect materials for your documentary!
Xian noodles
Finish making your documentary with your teammates and prepare your group presentation.
Enjoy the traditional Hotpot, maybe try something you never had before?
Hotel
Day 13
Xian
Hotel
On this morning we hold the closing & award ceremony of this trip.We also take a moment to look at the amazing trip we had together!
Lunch
Head to railway station to go to Shanghai.
Dinner on train
Hotel
Day 14
Shanghai
Hotel
Rest/Registration
Lunch
WYEF
Dinner
Hotel
Rounds
Round 1: 19 - 31 July 2019
Round 2: 05 - 17 August 2019
We are looking for
High school students who can speak English fluently.
Outgoing, polite and friendly are the characters we value.
Students who can live without parents and are self-disciplined.
Limited number
To provide the most exciting cultural immersion to our students and also the opportunity, we aim to have 30 local students.
Refund Policy
If you cancel a trip more that 50 days before departure you will be reimbursed 90% of the total fee.
If you cancel a trip 30 - 50 days before departure you will be reimbursed 70% of the total fee.
If you cancel a trip 30 days prior to departure you will be reimbursed 15% of total fee.
Contact us
ASDAN China
Beijing:010-84828941  84828942
Shanghai:021-55789138  55789139
Shenzhen:0755-86728072
Chengdu:028-85463627