Date:July 29th - August 12th 2020(15 Days)
The goal of the science forum is to bring together brilliant young men and women that have a passion for science, so they can learn more about the applications science can deliver across a wide range of disciplines. During the forum, you will have the opportunity to explore some of the world's leading research facilities based here in the UK and hear from pioneering scientists. Over the two weeks of the forum the representatives from the 70 countries become a single international science community. During this time together, it is vital also to share your own culture and to learn about others. This is the start of your journey as you become part of the international science community and it is hoped this experience will enable you to foster international friendships and connections, that will help facilitate the growth of your future career.
I welcome you to the United Kingdom and hope that you enjoy and make the most of your time here over the coming two weeks. Seize every opportunity for scientific and cultural learning, immerse yourself in the experiences offered and embrace each moment.

I am delighted to support the London International Youth Science Forum.
I agree that science makes a huge contribution towards making the world a safer place and was pleased to learn that this year's theme will be 'SCIENCE FOR THE FUTURE'.
We want to make the UK the best place in the world to learn science and create a strong STEM workforce. For the UK to reach its full potential, we must draw on all our available talent, improving diversity in the STEM workforce, and inspiring more young people to study STEM subjects.
Events such as LIYSF provide a fantastic platform for young people, from all over the world, to come together and share ideas. I would like to welcome all the participants to the UK for this great event. I hope you enjoy this fantastic experience and make the most of all the opportunities available to you.
It is once again my very great pleasure to support the London International Youth Science Forum.Now in its 61 year, the Forum remains a fantastic opportunity for young scientists from all over the world to come together, exchange ideas, collaborate and engage in a programme designed to educate, stimulate and inspire.
I am hugely proud of the UK's rich heritage of great scientific discovery. The UK is a world leader in diverse areas of science which are often at the frontiers of human knowledge.For the UK to continue to be at the forefront of scientific discovery in the future, I believe that it is imperative that we work together because many of the issues that we need to address are issues of global concern and cannot be resolved without worldwide collaboration and commitment.
The UK is a great place to study and visit and I am delighted to be able to welcome you. I encourage you to make the most of every single opportunity over the next two weeks to learn, share and question everything about the world around you.
 The London International Youth Science Forum was founded in 1959, which was the brainchild of the late Philip S Green. LIYSF aims to give a deeper insight into science and its applications, for the benefit of all mankind and to develop a greater understanding between young people of all nations.
 LIYSF has attracted the interest and support of many leading figures in the world of science and politics. An Honorary President assists as a consultative council and currently the President is Professor Richard O'Kennedy of Dublin City University. His predecessors include no less than four Nobel Laureates, (Sir John Cockroft, Sir Lawrence Bragg, Sir Joseph Rotblat and Lord Porter.) Many leading figures in British political life have addressed LIYSF including Neil Kinnock (former European Commissioner) and Margaret Thatcher, the former Prime Minister, who paid two visits to the Science Forum.
 LIYSF is a two week residential event held at Imperial College London, with lectures and demonstrations from leading scientists, visits to industrial sites, research centres, scientific institutions and organisations, including world class laboratories and universities.
 LIYSF attracts 500 of the world's leading young scientists aged 16-21 years old from more than 75 participating countries. There is an active social calendar with events designed to enable those from around the world to learn about different cultures. The scope of LIYSF extends further than broadening scientific understanding to engage students in education on other cultures and develop lasting, international friendships.
LIYSF official website:http://www.liysf.org.uk/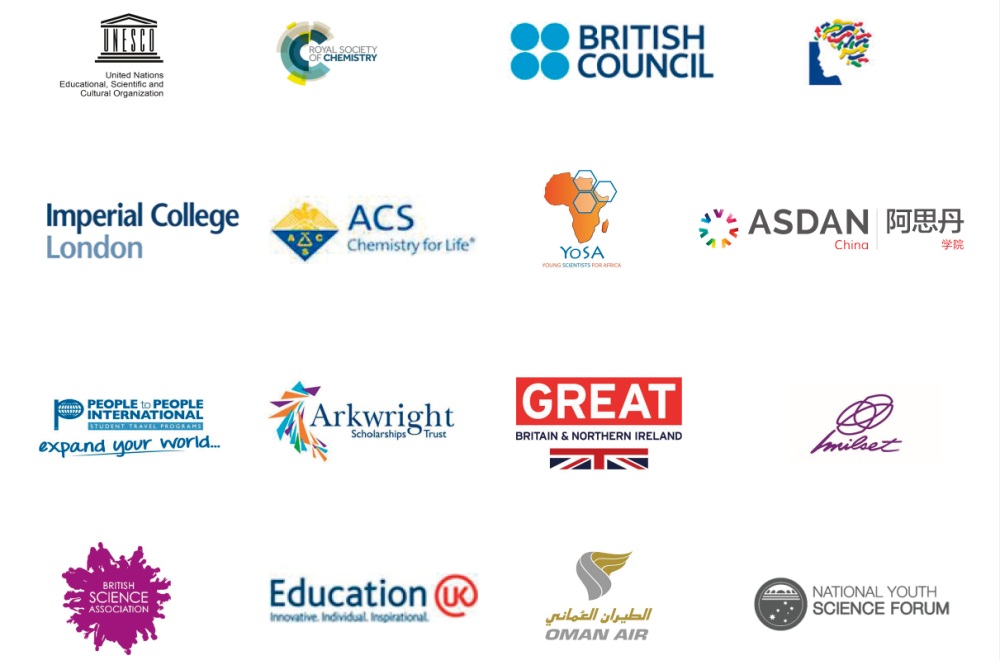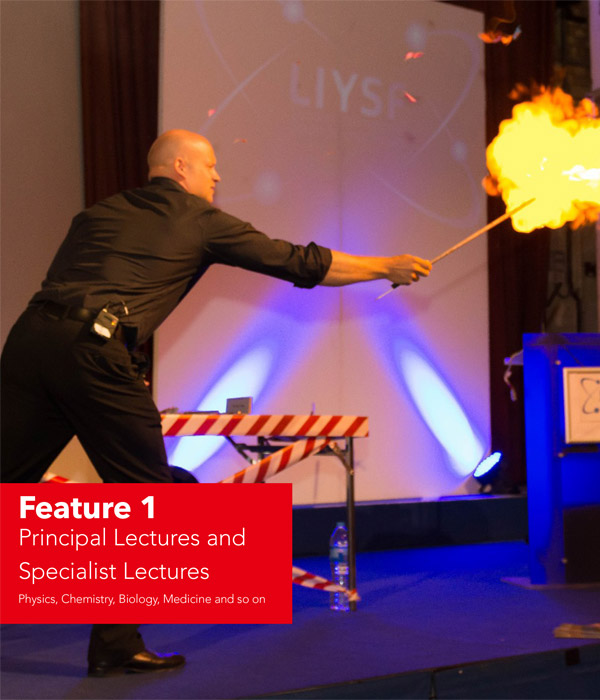 Principal Lectures and Specialist Lectures
Principal Lectures and Specialist Lectures
Principal Plenary Lectures:The Principal Lecture Demonstrations form the foundation of the programme at LIYSF.These sessions are led by high profile eminent scientists from around the world, who are leaders in their fields.
Specialist Lectures:Specialist lectures give participants the chance to benefit from a session that is closer to the scientist, as the groups are much smaller than principal lectures, typically around 60 participants. These smaller focussed sessions are invaluable and allow for a wider range of questions and interaction. These specialist lectures are led by top scientists and researchers who are at the forefront of research, often doing the work themselves.
Visit to Research & Scientific Establishments
University:Imperial College London, University of Cambridge,University of Oxford , University of East Anglia, Cranfield University
Research institutions:The Rothamsted Research Centre, The John Innes Centre, Norwich Research Park, Science Museum, Natural History Museum
Industrial sites:Rolls Royce, Airbus UK, Syngenta's International Research Centre at Jealott's Hill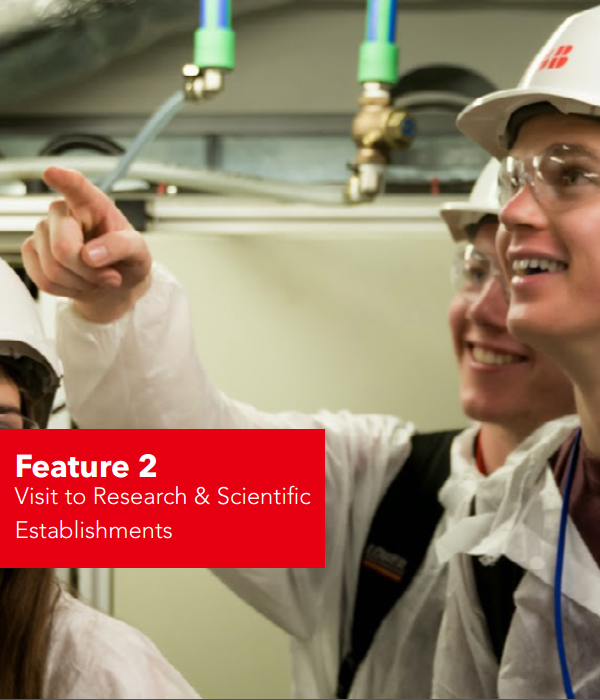 Visit to Research & Scientific Establishments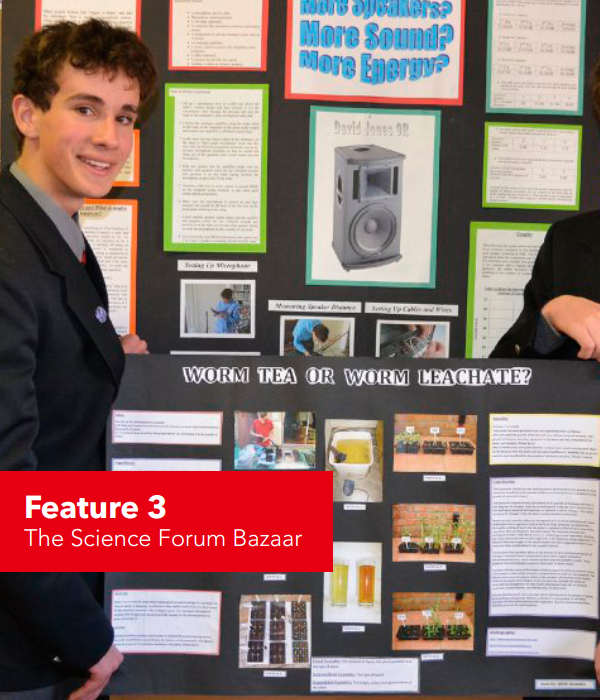 The Science Forum Bazaar
LIYSF Science BazaarTake part in an exciting opportunity to present your work in a non-competitive environment with fellow students from all over the world and our science experts.
Cultural Showcase:Welcome Party, International Cabaret,Traditions of Home (Sharing World Customs and Fashion Evening), LIYSF Olympics(Sports Day Session with Team Games)
Agenda
Date: July 29th to August 12th 2020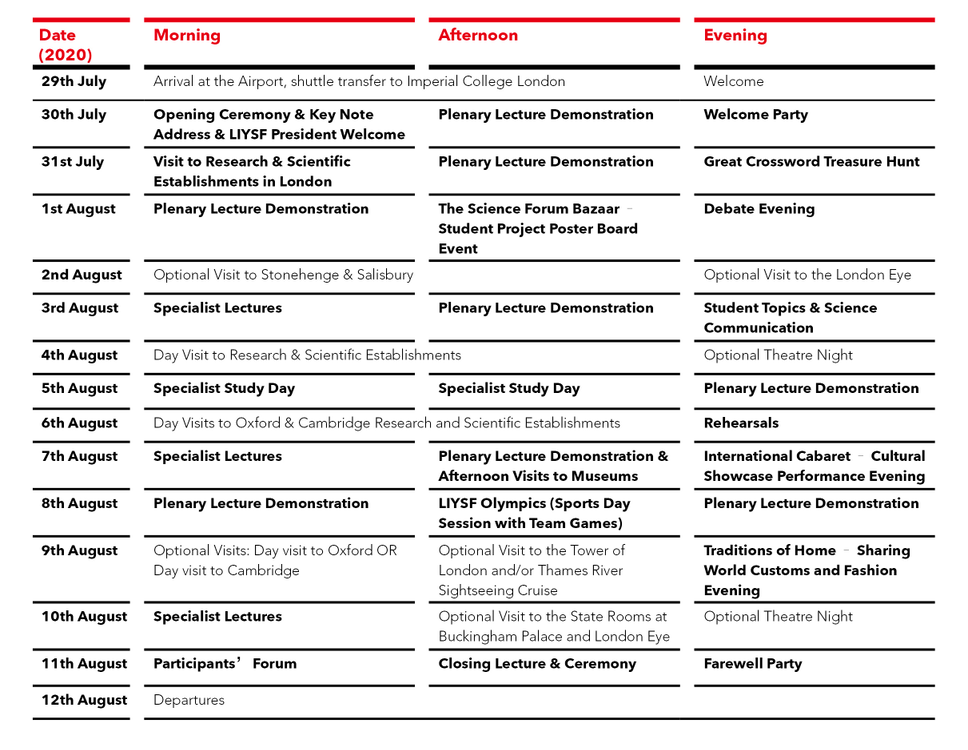 Lecture Preparation
In this Forum many famous and renowned scientists from around the world will share their research with students. Students need to be familiar with these topics, therefore ASDAN China have prepared a background guide for students to study.
Scientific English Terminology
English is the official language in the Forum, so students need to prepare certain scientific vocabularies. ASDAN China will provide scientific articles with vocabulary list for students to prepare.
Lecture Selection
During the Forum, there are many scientific visits and specialist lectures for students to choose from. ASDAN China will help each student in providing suggestions in making their choices for lectures and visits.
Science Forum Bazaar
During the Forum, delegates can share their scientific research with professors and other delegates. ASDAN China will guide delegates when applying and handing in materials online for the Forum Bazaar.
Cross-Culture Communication Courses
ASDAN China provides Cross-culture communication courses online where students can learn how to communicate with other foreign students of different backgrounds.
Social Programs
Delegates have the chance to showcase their creative talents such as dancing, singing, playing instruments at the Forum. If students are interested, ASDAN China will help in the registration process.
Ed Hill
UK
The science forum was more than just two weeks of lectures and visits; it was a way of broadening my horizons and meeting similar people from all over the world. As well as stellar speakers and lecturers, the scientific visits were an excellent opportunity to see how the various sciences are actually applied in the real world, and to experience the inside of research facilities that few people apart from those working there ever see.
Vivienne Wells
Australia
LIYSF met and surpassed every expectation that I had of the scientific, social and communication programs held, despite having already very high expectations of the program. I loved every second of LIYSF whilst I was there, and looking back on it I have grown to love it even more, something which I didn't think would be possible.
Katherine Mowbray
New Zealand
The range of optional visits really did cater to everyone's needs. The people selected to attend the forum were not only brilliant scientists, but they were confident, sporty, musical and outgoing people. LIYSF was truly the best three weeks of my life, not only giving me the opportunity to meet new people and experience such a rich variety of fields within science, but it has given me the confidence to proudly claim the title of 'geek' and aim higher in my studies and life in general. My memories of LIYSF are like little rays of sunshine that really do brighten my day, and I will treasure them forever.
Rizwan Ali
Pakistan
Its enriching, entertaining, and a gateway to unending opportunities! For me, LIYSF was a life changing forum.
Guillem
Spain
Sincerely, LIYSF was a unique experience, I met people from all around the world, I learnt about different cultures, and overall I have reached a deeper and more mature perspective of our global society. Furthermore, I have learned a lot about a wide range of scientific topics. All in all, I can say that it was, without the shadow of a doubt an unrepeatable and onein-a-lifetime experience.
John Murray-Bruce
Nigeria
This experience has considerably changed my perspective on most aspects of life; it also helped boost my confidence, as never before had I walked confidently up to a complete stranger only to be received warmly, and engage in conversation right away.
Kevin Lee
USA
Words fail me as I try to begin describing my experiences at LIYSF. In short, it was magical; a microcosm of the future as envisioned by pioneering scientists. Yet, it was so much more. The well-chosen lectures and ensuing discussions created a wonderfully thought-provoking atmosphere that dramatically impacted how I think about several important issues. The visits to research institutes bestowed unique opportunities to gain new insights into the frontiers or science. Lastly, the people I met inspired me like none had before and became a part of me that I will cherish forever. I experienced both an intellectual and spiritual awakening at LIYSF, and I feel tremendously privileged to have had a truly once-in-a-lifetime experience.
Anirban Poddar
India
The forum itself was the most brilliant presentation of Science in its entirety that one could ask for. With the most diverse range of topics from in depth- Physics, to application of fluorescent light in night-clubs to the latest development in Stem-cell therapy. The way a 14 day forum broadened my perspective on Science was truly incredible.
Nicky Reynolds
UK
There was also a whole range of social activities arranged for us... which included the Welcome Party; theatre trips; sightseeing tours; the great crossword treasure hunt; 'Songs of Home' with traditional songs from different countries... my favourite was definitely the International Cabaret with lots of performances from different cultures.. music, singing, dancing, comedy...
Con Moran
Ireland
LIYSF not only exceeded all of my expectations, it also was one of the most enjoyable times of my life. To be able to celebrate science and learn with my peers from around the world was an amazing experience.
Vaishnaavi Gnanasampathan
New Zealand
The Science Forum is an experience I will never forget, I have learnt so much about science, different cultures, and above all, myself. This Science Forum has exposed me to stunning scientific research... and also introduced me to people whose views and opinions have changed my outlook .... LIYSF was undoubtedly the most incredible two weeks I have had in my entire life.
<1>: Application and Selection
ASDAN China will grant seats to certain schools that provide exemplary recommendation for certain students

Awarded students from international science programs

Individual applicant
<2>: Register and Payment
<3>: Visa(April)
<4>: Online Academic Materials (April and May)
<5>: Specialist lectures and course selection (May)
<6>: Prepare for LIYSF Science Bazaar and International Cabaret (May and June)
<7>: Arrive in London (July and August)
Age:
Aged between 16 and 21 years old when LIYSF takes place - thus date of birth be between 29/7/1998 and 29/7/2004
Academic:
1. Recommended students from outstanding high schools or international schools will be given the priority
2. Awarded students from ASDAN international science programs
3. Individual applicant:
(1) Materials to be submitted:
Two recommendation letters from the science teacher

A high command of the English language equivalent to IELTS level 6.5 or TOEFL 90.

Proof of your achievements in science programs, or research projects.
(2)ASDAN China telephone interview
(3)Outstanding students from interviews who have submitted in materials will be admitted
The number of places is limited therefore register as soon as possible