Eduexplora at Yale
Contact
East China: Miss Huang 18321917128
North and Northeast China: Miss Liu 13426307315
South China: Miss Qin 13632952698
West and Central China: Miss Cheng 18628376953
Institution cooperation: Miss Zhuang 18810699665
Eduexplora at Yale
Teachers from Yale and other top universities
Receive final report and certificate of completion
Interact with teachers and other students from around the world
Three popular topics to choose from
Date: 12th July - 25th July 2020 (14 days)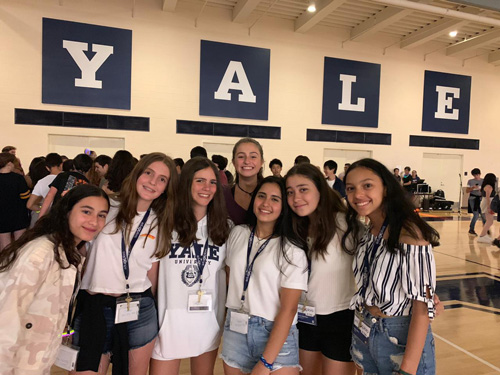 Eduexplora at Yale
Eduexplora at Yale is a unique academic program for high school students at Yale University. Being part of Eduexplora at Yale gives students a better inside about their academic future and professional interests. They will have the chance to advance their education through innovative courses taught by highly qualified and experienced instructors using a modern and engaging methodology. The two-week academic program at Yale gives students the opportunity to choose a field of interest and attend different courses on the selected field.
During the Eduexplora at Yale program, you will live for two weeks on one of the most beautiful campuses in the United States, experience the American college life and will be surrounded by amazing places such as museums, libraries, galleries, laboratories and more. Besides that, you will be expose to a multicultural community with a variety of culture, languages, and backgrounds having the opportunity to make new friends from around the world.
Statement: It is important to be clear that the Eduexplora at Yale is not part of or otherwise affiliated to the Yale University. Course grades cannot be converted into Yale credits. But this program is supported by Yale university to encourage high school students around the world to familiarize themselves with Yale's life and study in advance.
Official webisite:www.eduexplora.com/atyale
Browse Yale University website for more details:conferencesandevents.yale.edu/eduexplora-yale
Yale University
Yale University is a private Ivy League research university in New Haven, Connecticut.
Founded in 1701, it is the third-oldest institution of higher education in the United States and one of the nine Colonial Colleges chartered before the American Revolution.
Academic course
Students will choose one of the following academic tracks and take between 3 and 4 courses of the field chosen. * Note: Courses might change based on availability.
Humanities & Social Sciences
Artificial Intelligence
There are headlines about artificial intelligence, driverless cars, robots performing surgery, artificial intelligence voice assistants almost every week. But what is real and what is the hype of technology? This course will explore a range of topics in the fields of artificial intelligence, robotics, and machine learning, which are affecting the development of applications in various fields from manufacturing, medical to transportation. We will discuss what may happen today, and those that will happen in the near future, and what can be achieved in the future. Course topics include machine manufacturing and environmental adaptability, human-computer interaction, artificial intelligence applications in medicine, and the relationship between robotics and manufacturing.
Robotics
The course will introduce the concepts and technologies of machines, including machine learning, applied machine learning and algorithms. Topics include data preprocessing, classic machine learning, deep learning and natural language processing. This course will look at machine learning using the Python programming language from a more practical point of view. Students need to use a computer with Python installed. Anaconda software package is recommended.
Chemistry World
This course will start with the basic periodic table and elements, discuss how atoms interact with each other to form chemical bonds, and form all the materials around us. Later, we will discuss material characteristics, chemical reaction experiment practice, acid and alkali knowledge, and mixture quality.
Manufacturing Mechanical Engineering
Students will participate in a series of lectures accompanied by hands-on practice, exposure to mechanical engineering processes and development of products. Using the Fidget runner as an example, each student will learn how to use computer-aided design (CAD) software, Onshape modeling, and develop an understanding of manufacturing processes such as subtractive manufacturing, injection molding, and 3D printing. Students will also participate in individual and team practice, using engineering discipline expertise to simulate a runner.
Neuroscience
This course will introduce the students to the basic tenets of neuroscience. Starting with a historical view of basic cellular science and ending with cutting-edge tools in brain research and treatment, the students will attend a combination of lectures and take part in hands-on laboratory exercises. The course will encourage active learning and heavily rely on peer-to-peer instruction aided by the instructor and her assistant.
Frontiers in Immunotherapy
The human immune system is an amazingly complex network. It has evolved to execute the seemingly impossible balance of effectively protecting us from an ever-expanding list of pathogens and surveilling for aberrant cell behavior. During the short time we will share together in this course, we will explore the basics of how the immune system functions and meet the major cellular players involved. We will learn how deficits in the immune system lead to human disease. We will critically examine current research efforts aiming to manipulate the immune system to achieve a desired therapeutic outcome.
The Social Life of Modern Art
This class will investigate the role that visual art has played in modern societies since the beginning of the 20th century. Is Art a status symbol for social elites or a tool for political change? Should an artwork's political virtues impact our aesthetic judgment? Foregrounding such questions, this class takes advantage of the rich collections of the Yale University Art Gallery and the Beinecke Library. We will study how works of art both reflect and shape the societies that birthed them-from Soviet Russia and 1920s Paris to present-day Ghana and the United States. Paying attention to both formal aspects and political content, the class will introduce students to key strategies to describe, appreciate, and analyze works of art in a variety of media including painting, sculpture, prints, photography, and video. In addition to learning about some of the most central debates surrounding modern and contemporary art, they will gain familiarity with the
Applied BioScience
Biotechnology is pervasive in our society, technology and history. This course is aimed at developing and understanding the ingenuity of applying basic research to solve real problems. Ultimately, these lessons are designed to get students to rethink the way they see living systems and understand how even the most insignificant bacteria, jelly fish or sea urchin may hold solutions to billion-dollar industries.
Intro to Human Physiological Systems
This course is an introduction to several of the physiological systems of the human body. Class will consist of lectures to learn about the systems, as well as case studies to see what types of diseases incorporate the different systems.
Computational Biology and Physiological Modeling
Now that biological and medical sciences are investigating questions at multiple levels, from the whole organism to cells to single molecules, increasing quantitative sophistication is necessary to truly understand how living units can perform necessary tasks and maintain itself. Bringing to bear tools from physics, mathematics, and computer science have revealed that biological phenomena can be modeled to develop a greater understand of health and disease. In this course, we will introduce some of these concepts and perform modeling and quantitative analysis of biological processes in health and disease. By the end of the course, students will learn how to test quantitative hypotheses through use of computational modeling of biological and physiological systems in MATLAB.
Law and Politics: Contemporary Global Challenges
The objective of this course is to contribute to the students' development of a comprehensive and critical framework to understand and analyze contemporary challenges of societies around the globe. The course will mainly address a series of pressing issues regarding law and politics. The first section of the course will explore the origins, purpose and main features of liberal democracies. This section will help students understand how political power is created, distributed, limited and sustained over time in liberal democracies. The second section of the course will inquire on specific social and political institutions within liberal democracies. By the end of the course, students will be familiar with a set of fundamental law and politics ideas, and will be able to apply this new knowledge to understand political and social problems in their own countries and regions.
Sustainable Inovation in Health Care
This section will help students understand how technology can address social needs while developing new businesses and disruptive technologies. The second section of the course will inquire on specific health care digital innovations that have emerged in the last two years through a policy and empirical approach. By analyzing each of them, the course will reflect on the impact of innovation over the equal access to health care, controlling rampant costs, creating strategies for preventive care, and, overall, working towards a value-based, patient-centered health care model. By the end of the course, students will be able to recognize when innovation in health care is sustainable with economic and social growth, with a global perspective.
Critical Thinking of Global Social Problems
The course looks for critical thinkers who are eager to learn through observation and discovery, and willing to engage in thoughtful conversations about different social problems in the Latin American region and the world. We will practice in this course a learning tool used in Harvard University and several museums, including the Museum of Modern Art (MOMA), named slow observing or "the art of looking". During the course we will engage on discussions about social and political events, including racial discrimination and segregation, the rise of social movements for political changes, capitalism surveillance and technology, immigration policies in the region in an era of global migration, and feminism. We will engage on slow observing, usually of modern and contemporary artwork, during several visits to the Yale University Art Gallery (YUAG).
Teaching Faculty
Our instructors bring their particular areas of expertise to each course, providing participants with insight into a variety of academic and professional fields. The sample set of instructors listed below teach for us regularly.
Brian Scassellati, Ph.D.
Computer Science & Mechanical Engineering & Materials Science - Yale University
Lorenzo R. Sewanan, Ph.D
Computational Biology & Physiological Modeling
Kevin Lopez, Ph.D
Computational Biology & Bioinformatics
Maral Tajerian, Ph.D
Neuroscience
Jennette Creso, Ph.D
Biomedical Engineering dept.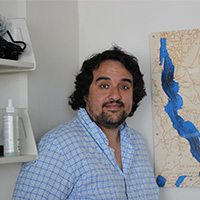 Sebastian Alvarado, Ph.D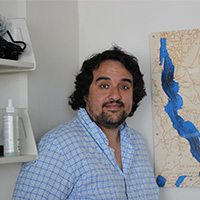 Dr. Alvarado has worked both in the private biotech sector and in academia for more than a decade. He has worked toward creating industrial-grade enzymes, biofuels, and medical biologics. He carried out postdoctoral research in the field of neuroscience at Stanford University.
Sebastian Alvarado, Ph.D
Applied Bioscience
Date
Morning
Afternoon
Evening
9:00-12:45
14:00-15:59
16:00-18:00
18:10-22:00
Sunday
Check in day
Recreational & Academic Activities
Dinner Orientation
Monday
Morning Lecture 1/2
Afternoon Lecture 3
Yale Information Session
Dinner/ House Meeting
Tuesday
Engineer Tour or Recreational Activities
Wednesday
Multicultural Activity
Yale Young Global Scholars
Thursday
Workshop
3D Printing Technologies or Recreational Activities
Friday
Shopping Day or Recreational Activities
Saturday
Field Trip To Boston
House Meeting
Sunday
New York City Field Trip
Dinner on the road
Monday
Morning Lecture 1/2
Afternoon Lecture 3
Science Tour or Recreational Activities
Dinner/ House Meeting
Tuesday
Art Gallery Guided Tour or Recreational Activities
Wednesday
Peabody Museum of Natural History or Recreational Activities
Thursday
Recreational Activities
Friday
Closing Ceremony
BBQ at Cross Campus
Saturday
Back to China
*Changes in itinerary may apply in case of weather conditions or other.
* We separate the classes into two different groups, one 13 to 15 and the other 16 to 18.
Campus life
Experience the taste of college life in the beautiful surroundings of Yale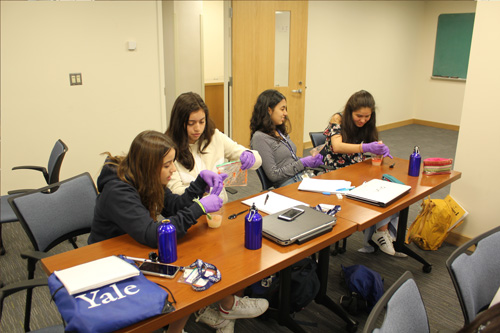 Residential Life
Most units range in size, typically they will have 2–5 bedrooms plus a living space. Bedrooms might be single or double. Bathrooms are shared within units of the same floor, with female and male participants in different floors. Bathrooms are cleaned every day.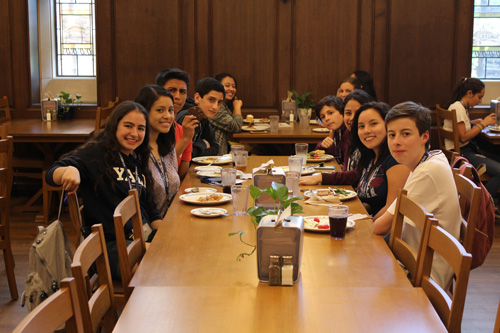 Dining Halls & Meals
Housing and meals are provided during the 2 weeks of the academic program. Breakfast, lunch and dinner is provided during the 2 weeks of the academic program.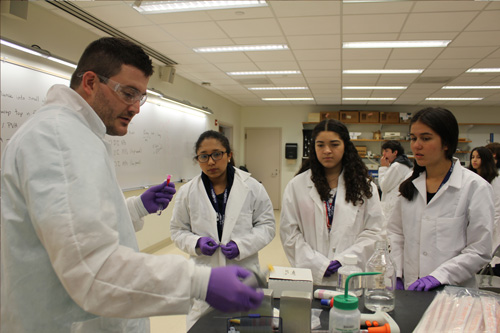 Living at Yale
During the program, you will live for two weeks in Yale, experience the American college life. You will be exposed to a multicultural community with a variety of culture, languages, and backgrounds. Student will be able to participate in diverse activities and visit the incredible city of Boston and New York!
Date:
12th July - 25th July 2020 (14 days)
Requirements:
Recommendation letter from your teacher as proof of English proficiency, and a phone interview with an ASDAN staff member (since the programme is conducted entirely in English)
Admission Quota:
20 Chinese students
Aged between 13 and 15 years old when Yale takes place - thus date of birth must be between 25/07/2004 and 12/01/2007
There is a limited number of vacancies for each course, placements are assigned on a first come, first serve basis
Registration and Payment Process
Step 1: Application and Selection (from December 2019 to April 2020)
Click the Sign up button to sign up, or send the application form to this email address: summerschool@seedasdan.org
Step 2: Qualification Evaluation (from December 2019 to April 2020)
Within five working days after the application is received, ASDAN staff will contact the student who signed up, evaluate the qualification or arrange a telephone interview.
Step 3: Confirmation (January to April 2020)
After passing the qualification evaluation, the student will sign the contract, pay and select the relevant courses.
Step 4: Visa (April, May, June 2020)
ASDAN China will make an appointment and arrange all other visa formalities.
Step 5: Preparation (July 2020)
ASDAN China will provides online cross-cultural communication training.
Provide instruction and academic materials for students to learn in advance. (Eduexplora at Yale)
ASDAN China will provides student guidebook which will give student a detailed instruction about logistics preparation and studying abroad.
Step 6: Study Abroad (July, August 2020)
According to the agreed collection site, ASDAN China's group leader will collect students to abroad and return to China.