Cambridge University Journalism Summer Camp
Official collaboration with the Cambridge University Classics Society
Offically supported by the International Writing, Photo and Multimedia Contest
Date:4th-10th, Aug.2020 (7 days)
Shanghai
Cambridge University Journalism Summer Camp
Official collaboration with the Cambridge University Classics Society
Offically supported by the International Writing, Photo and Multimedia Contest
Date:4th-10th, Aug.2020 (7 days)
Shanghai Adcote School
Varsity
Varsity is a student-run newspaper which has served members of the University and Cambridge city since its creation in 1947. Many of its stories have been picked up by national and international news organisations including The Guardian and the New York Times. Varsity has helped launch the careers of some of Britain's top journalists and broadcasters, including Jeremy Paxman and David Frost, and has been the recipient of numerous student journalism awards including the Guardian Student Media Awards. Varsity's output includes news and investigations, interviews and opinion pieces. Varsity also publishes a magazine called Vulture, which covers content on music, theatre and the arts, fashion and lifestyle. Apart from the weekly print editions published during term, Varsity has become increasingly more oriented towards online content in recent years. Varsity also has a growing digital media team, including video and audio podcasts. Varsity prides itself on being a passionate team committed to providing high-quality, relevant and accurate content.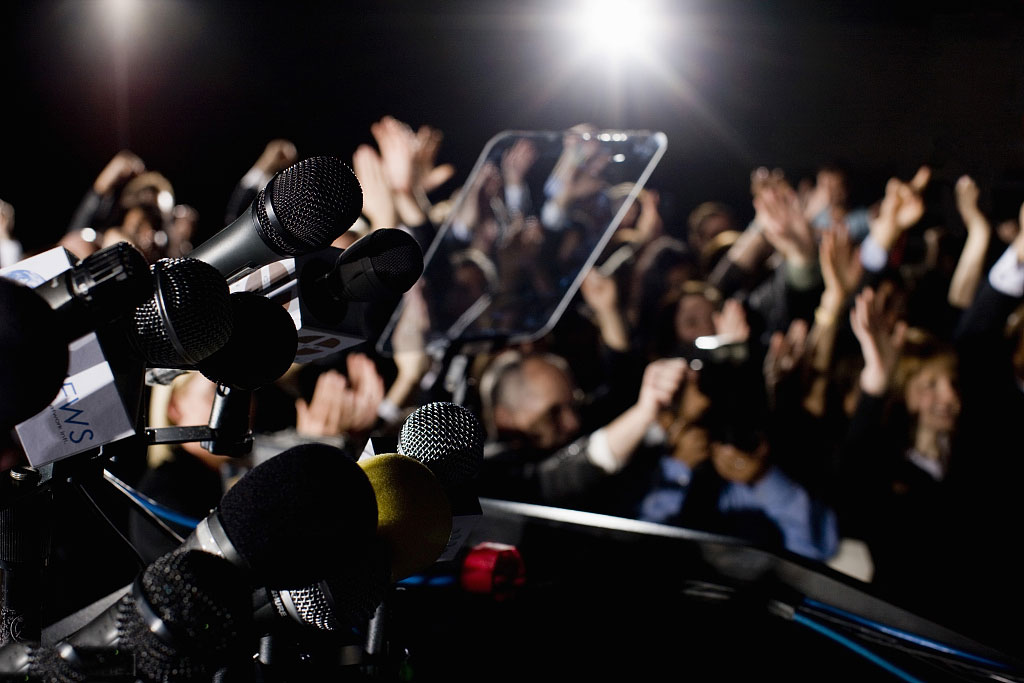 "If a nation can be compared to a large vessel at sea, then the journalists are its watch-keepers who timely report the treacherous shoals and hidden dangers to ensure the safe journey of the vessel."
——Pulitzer
Program Highlights:
Cambridge University's largest and most credible independent student newspaper is coming to China to teach international media courses.
Experience a collision of traditional news with emerging media, personally taught by the staff of Cambridge University's reknown Varsity.
This program is officially supported by the International Writing, Photo and Multimedia Contest. Program participants can submit their works to the competition free of charge.
Help students develop self-confidence, inspire enthusiasm and unearth their true potential.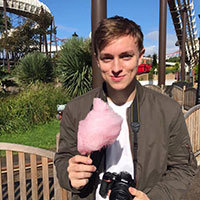 James Dickinson
Hello! My name is James and I am about to graduate from Cambridge in Philosophy. I am currently the Deputy Editor of the Varsity Magazine, so I oversee the five culture sections. I help organise photoshoots, illustrations, and the content for the paper. In addition, I have written regularly for the Theatre, Music, Fashion, Film and TV, and Lifestyle sections of the paper. I am also actively involved in the film scene in Cambridge, and help do the press for the Watersprite Film Festival - a festival that has had headliners such as Eddie Redmayne, Olivia Coleman and David Yates. I can't wait to meet everyone and get started!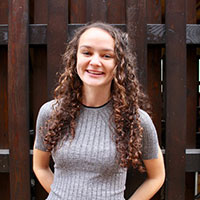 Belle George
I'm Belle, a second year HSPS student studying politics and sociology. I'm particularly interested in issues of gender and class, both in the UK and in my home country of New Zealand. In college I was the editor of my student newspaper and since coming to Cambridge I have wrote and edited for the Opinion, Interviews and News sections of Varsity. As well as journalism I also love the outdoors. Looking forward to meeting you all!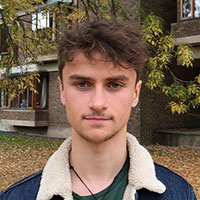 Marcus McCabe
Hi there! I am a second year English Literature student at Cambridge, with a particular interest in metafiction and the postmodern novel. I have been involved with journalism for the duration of my time at university, writing both News and Opinion pieces for both Varsity and The Cambridge Student, two prominent newspapers at Cambridge. I spent 6 months as the Sports editor for Varsity, and I am currently the Features editor. I am also passionate about creative writing, and I have had my work published in a number of short story anthologies. I can't wait to read and chat about your own writing!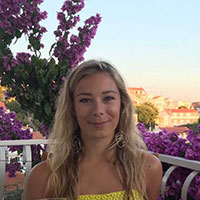 Bethan McGinley
My name is Bethan and I'm a second year History student at Cambridge. Journalism is something I have always taken an interest in and since coming to Cambridge I have been involved with the Student Newspaper Varsity. I have written articles for a variety of different sections as well as working as a Deputy editor for the Opinion section which has involved commissioning, editing and publishing articles each week. I also have extensive experience in teaching children - I'm a qualified swimming teacher with four years' experience teaching adults and children of all ages; I spent three months teaching abroad prior to University; and in the summer of 2018 I spent two weeks as a mentor and supervisor on a Cambridge summer school teaching school children from China and Hong Kong. I can't wait to meet everyone!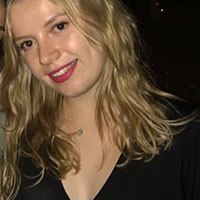 Isobel Bickersteth
I am a second year student at Cambridge studying English. An area of particular interest for me is Renaissance literature. Having been involved with Varsity, Cambridge's student newspaper, since my first term I am passionate about student journalism. I am currently the magazine editor for Varsity. Previously, I held editorial positions within the news and features sections.
Oliver Rhodes
I'm a second-year History student who has served as Deputy News Editor and Interview Editor at Varsity! During my time at the paper I've had the privilege to interview some prominent people, including British politicians and famous journalists. I also enjoy writing reviews for theatre productions and producing analyses on engaging issues. I can't wait to meet you all! Oliver Rhodes
Day
Theme
Lesson

Tuesday

AM

Intro & ice breakers

'What is journalism?' 'what makes a good journalist?'

Person Bingo- sheet with different characteristics i.e. one sister/a pet/plays an instrument- has to tick things off.




Activity works as an ice breaker and to develop 'investigative skills'Introduce goal for the week which is to put together a newspaper.Group discussion- question on board, put children in groups to discuss, then feedback as a class.




Have a look at an opinion piece- examine article as a class- identify 3 key rules for an opinion piece.




Each should write a short opinion piece on why a certain aspect is most important to 'good journalism'

PM

Get to know them- lifestyle piece.

Discuss in groups daily routine and favourite things to do around where they live.




Watch a short lifestyle clip of some kind?Write article- provides an insight into each kid's life

Wednesday

AM

Debating (half class do debating in morning and reporting in afternoon, then switch)

Show BBC clip- the big question possibly or some kind of debate (age appropriate)

Class focus on how to debate- discuss what are the key aspects of good debating.
Provide debate question, divide class into teams, give prep time.
Have a class wide debate.

PM

Reporting (make them aware that they will be writing on this so it is important to write things i.e. quotes, down)

Use cameras- practice interviewing one another and speaking to a camera/publicly. Interview debate participants, film a discussion group and aspects of the debate.

Thursday

AM

Opinion Piece/News Piece/ data presentation

Following debating and reporting day, children should know how to argue a point, translate this into opinion pieces on debate topics.




Alternatively, children may opt to write a news piece reporting on yesterday's events and using quotes from debates and interviews.

PM

Film making

Cameras, split into groups, can either try to make a film explaining an issue, possibly one that has been debated, or can go and look at engineer/drama department and make a film discussing and reporting on what they've seen.

Friday

AM

Trip in the morning- to the zoo or the equivalent if possible?

Prior to trip, provide examples of travel articles, examine what makes a good travel article.

PM

Travel article

Write travel article based on trip.

Saturday

AM

Editing

Learn to cut down articles which are too long, think of new titles to articles, spot spelling mistakes.- can do some crosswords and other similar games i.e. acronym games, hangman etc to practice word spotting and spelling.

PM

Arts review

visit drama and watch a performance- write their own review

Sunday

AM

Short story/poetry writing

Creative writing and/or poetry for an arts section of the newspaper/magazine.

Provide examples of short stories and poems and give children time to write their own.

PM

Arts review- watch drama

Watch a film and read the review as a class

Monday

AM

Newspaper day

Different groups:

Some write articles about their week as a 'travel' esque piece

Some work on Newspaper layout (can have multiple editions)

Others draw illustrations for pieces

PM

Flexible time

Free to finish off unfinished projects/ print newspaper/ watch drama performance if there is one, etc- flexible afternoon.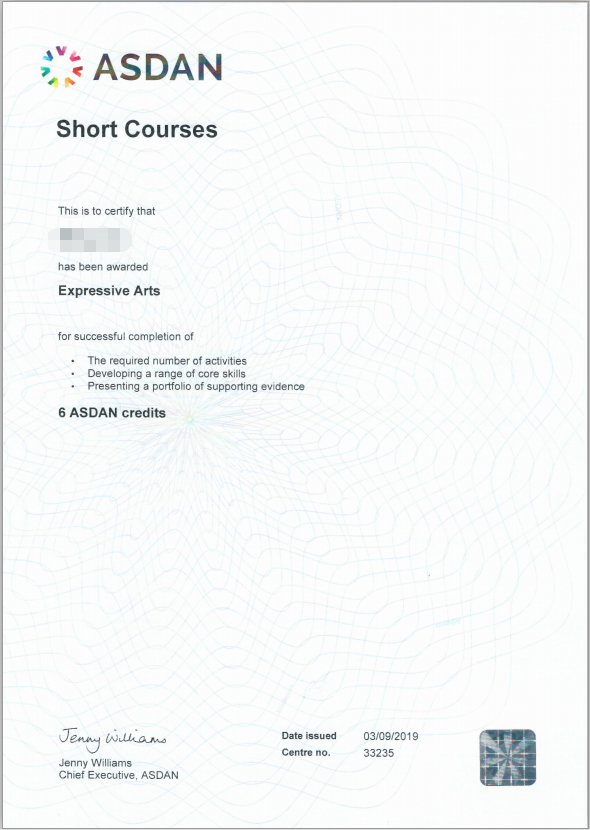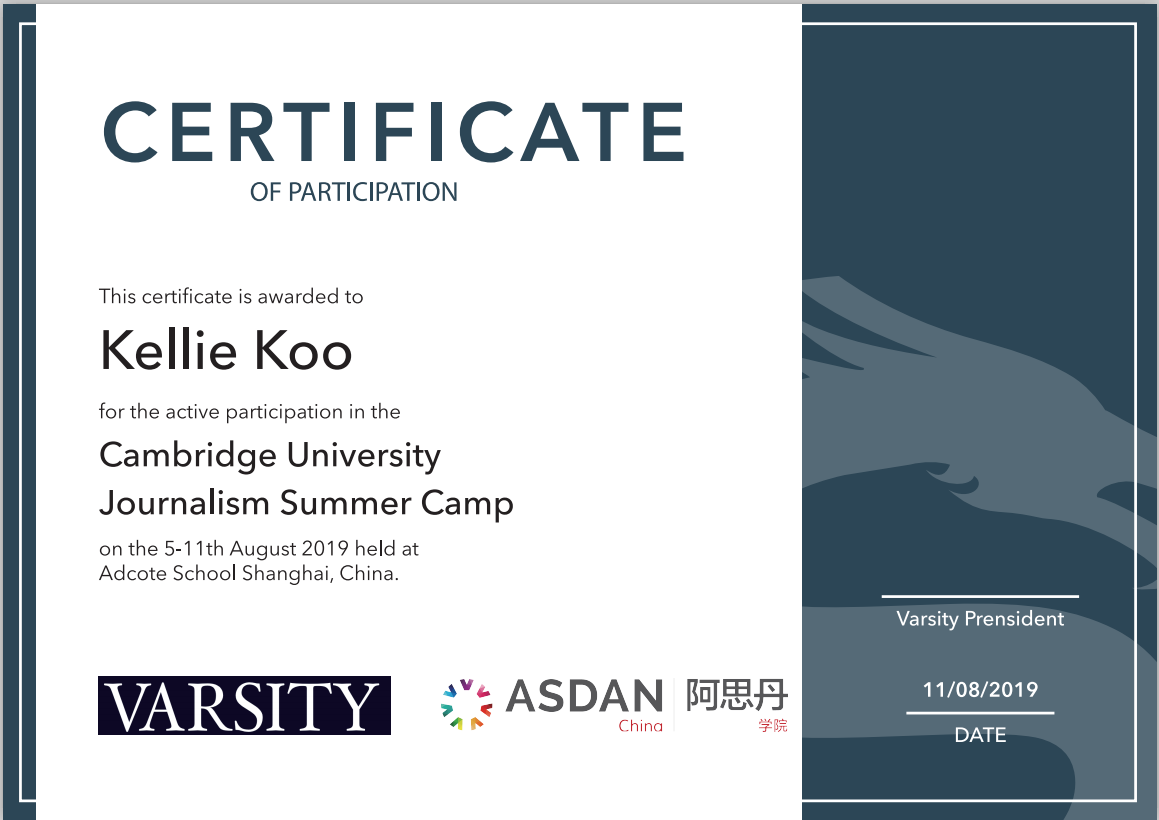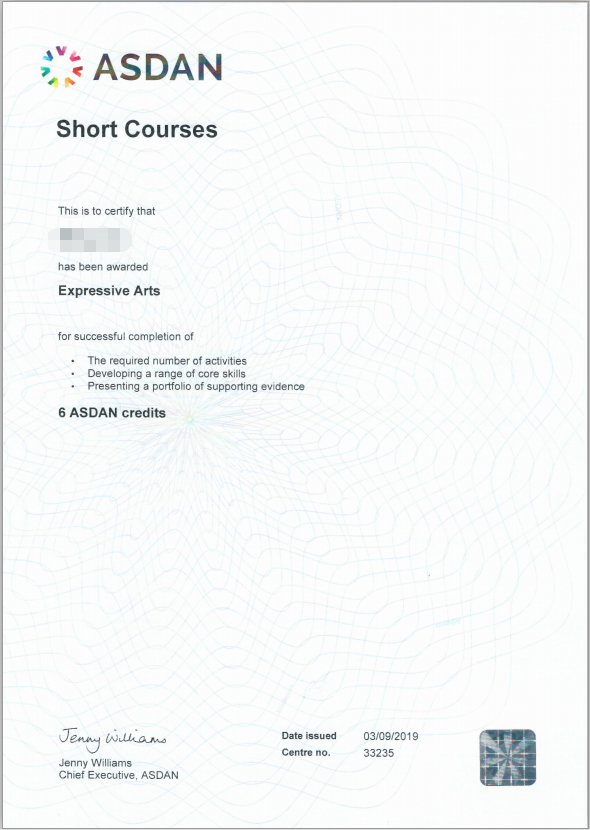 Sponsors
Date:
4th-10th, Aug.2020 (7 days)
Language:
English
Refund Policy
If, for some reason, a student is unable to attend after paying the fee, please notify us in writing before July 15th, 2020 and 25% of registration fee and logistic fee will be deducted. If after July 16th, 2020, 75% registration fee and all logistic fee will be charged. Attention: No refund is allowed after the start of the project
Admission Quota
60 Secondary School Students
Deadline
15th, July 2020
Who can apply
High school students who are passionate about Journalism
Students who wish to apply for a journalism major abroad
Students who have a good English level and have been taught in English