Stanford Pre-Collegiate International Institutes
Phone
• East China:Miss. Huang 18321917128
• North and Northeast China:Miss. Liu 13426307315
• South and Southwest China:Miss. Dong 13530398268
• Northwest and Central China:Miss. Ai 18615788720
• Educational Institution Cooperation:Miss. Zhuang 18810699665
Experience American university life at Stanford
Provide academic opportunities that may not be present in a student's regular school
Allow students to engage in a transformational educational experience
Break the mold of the traditional classroom curriculum and methodologies
Interact with other students from around the world and learn about their cultures
Date: Aug. 6 - 18, 2019 (13 days)
Experience American university life at Stanford
Provide academic opportunities that may not be present in a student's regular school
Allow students to engage in a transformational educational experience
Break the mold of the traditional classroom curriculum and methodologies
Interact with other students from around the world and learn about their cultures
Date: Aug. 6 - 18, 2019 (13 days)
"It has been delightful to see these students from around the world come together with shared talents and interests."
Rick Sommer
Executive Director
 Stanford Pre-Collegiate International Institutes
Stanford Pre-Collegiate International Institutes provides motivated pre-collegiate students an extraordinary American college-life experience on Stanford University's campus. Held in collaboration with education organizations, this two-week summer program breaks the mold of the traditional classroom with curricula and methodologies that engage participants in a transformative educational experience.
Working with Stanford University as an official partner, ASDAN China will select a maximum of 35 outstanding academically students to attend the 'Stanford Pre-Collegiate International Institutes'.
Students participate in intensive academics that expose them to university-level content through courses and workshops that draw on a range of subjects taught in the Stanford schools. The International Institutes provide an American college-life experience and helps students understand the admissions process for U.S. colleges and universities.
Stanford 
A place for learning, discovery, innovation, expression and discourse
One of the world's leading teaching and research universities,ARWU ranks second in the world
A world leader university for educating the standout and for building a spirit of innovation
HIGHLIGHTS
This intellectually challenging program encourages participants to develop skills in problem solving, collaborative work, and critical and creative thinking.
Academic Content
The academic program exposes students to university-level content and teaching styles in a classroom that fosters communication, innovation, and creativity. Courses, labs, and workshops draw on a range of subjects taught in the Stanford Schools of Humanities and Sciences, Engineering, Medicine, and Business.
Sample Course Descriptions
NATURE, NURTURE AND EPIGENETICS
In this class, you may be born with your genes but you can still change them, we will discuss the way our genome interfaces with environment through the field of epigenetics. Students will be introduced to the regulatory mechanisms that determine how a gene functions and how it can translate to human disease and mental health outcomes.
Design Thinking
Design Thinking takes the complex challenge of generating appropriate, innovative concepts, breaking the process into simple, discrete, additive steps, which build upon each other to rapidly create appropriate, socially-useful solutions. Adding the 'visual' component allows this class's collaborative teams to evaluate and solve project problems in a new graphic language-always in a fun, thought provoking manner. Along the way, we'll encourage individual students to self-answer the burning question; "Where do strong ideas originate?", then apply those skills to the Global Solutions Project.
Business entrepreneurship
What is entrepreneurship and how do you create a successful startup? How do you develop an innovative idea into a business opportunity? This workshop presents an introduction to entrepreneurial thinking based on ideas developed at Stanford and practical experiences in Silicon Valley, California. This workshop provides a toolkit to create value, to identify opportunity and market need, and teaches methods to test new ideas. Students will learn about important processes and thinking skills that are critical to the success of innovative enterprises.
Geometric design and Islamic art
In this workshop, we will look at art and we will make art! We recognize and apply geometric ideas and relationships in areas outside the mathematics, such as art and everyday life. We draw and construct representations of two dimensional geometric objects using a variety of tools inspired by Islamic arts.
Visual storytelling in the digital age
Images tell stories. Especially since photography is more easily accessible today than ever before, learning how to use imagery to tell and share our stories can become one of the most essential ingredients in communication that transcends language.
Being a leader
Every great initiative has a leader. Most Leaders learn through trial and error and sometimes make mistakes that cost companies millions or even billions of dollars. Effective leaders accomplish what others thought was impossible, often because they can see what's possible even though others don't see it. In this course students learn essential skills needed to be an effective leader and will walk away with a leadership toolkit where they can build and develop their leadership skills when they go home. Students will learn how to develop their inner game in order to influence their outer game.
CLINICAL NEUROANATOMY INTRODUCTION
This workshop will focus on introductory and basic aspects of clinical neuroanatomy. Students will gain useful knowledge and skills on identifying, understanding, and examining common conditions in clinical neuroanatomy.
INTRODUCTION TO RHETORIC AND LITERARY STUDIES
In this workshop, students will be given a brief overview of the tenets of rhetoric and literary studies, including the opportunity to practice and polish their writing, argumentative and debating skills.
PLANETARY SYSTEMS: EARTH AND SEARCH FOR EXOPLANETS
As part of this workshop, we will discuss the formation of our Solar system- Sun, Planets, Moons, Asteroids, and Comets. Intriguing questions like causes of seasons, eclipses, different phases of Moon will be discussed. At the end of the workshop, students will be well-equipped to understand and infer important properties like the presence of volcanoes, craters, magnetic fields on any given planet just based on its given size, structure and rotation speed. A brief introduction to exoplanetary search based on current and future space missions will be the final topic of discussion of the workshop.
Mock trial: Develop critical thinking
In this performance-based class, the students will take on the roles of lawyers, witnesses and jurors in a short trial. It is an opportunity to strengthen analytical thinking, and confidently and persuasively present complex arguments in public.
Date
Morning
Afternoon
Evening
9:00-11:30
13:00-15:30
16:00-17:30
19:00-21:00
August 6th(TUESDAY)
Bus Pick up SFO/Check-in/Welcome Dinner
House Meeting:Orientation&Introductions
August 7th(WEDNESDAY)
GSP(Global Solution Program) Kickoff
Writing with Images
Scavenger Hunt
Prepare for MCE (Multicultural Exhibition)
August 8th(THURSDAY)
Think Like a Lawyer-Powerful Strategies to
Lecture/Visit to CCSR Lab
GSP Meeting1
Prepare for MCE
August 9th(FRIDAY)
Effective Leadership
Business Entrepreneurship
GSP Meeting2
SF Gaints Game
August 10th(SATURDAY)
Campus Day
Campus Day
Campus Day
Farewell Event
August 11th(SUNDAY)
SF Tour
House Based Activities
August 12th(MONDAY)
The Curious case of the three eyed frog and other classics
Democracy: Why or Why not?
GSP Meeting3
Entrepreneur Panel
August 13th(TUESDAY)
Your Brain on Stress
Fermenting Foods
GSP Meeting4
House Based Activities
August 14th(WEDNESDAY)
Introduction to Creative Writing
Decision Quality:Better Decisions-Better Lives
GSP Presentation Preparation
GSP Presentation Preparation&Fire Pit Night
August 15th(THURSDAY)
Design Thinking
Cracking the code
Admission Talk
College Expo
August 16th(FRIDAY)
GSP Presentations
The Social Ocean-Humans in Coastal and Marine
Free Time
Award Ceremony
August 17th(SATURDAY)
Campus Day
Campus Day
Farewell Event
August 18th(SUNDAY)
Check-out
Academic Enrichment
Our dedicated team of counselors and staff organizes activities, ranging from arts and crafts to sports and local excursions.
Exploratory Workshops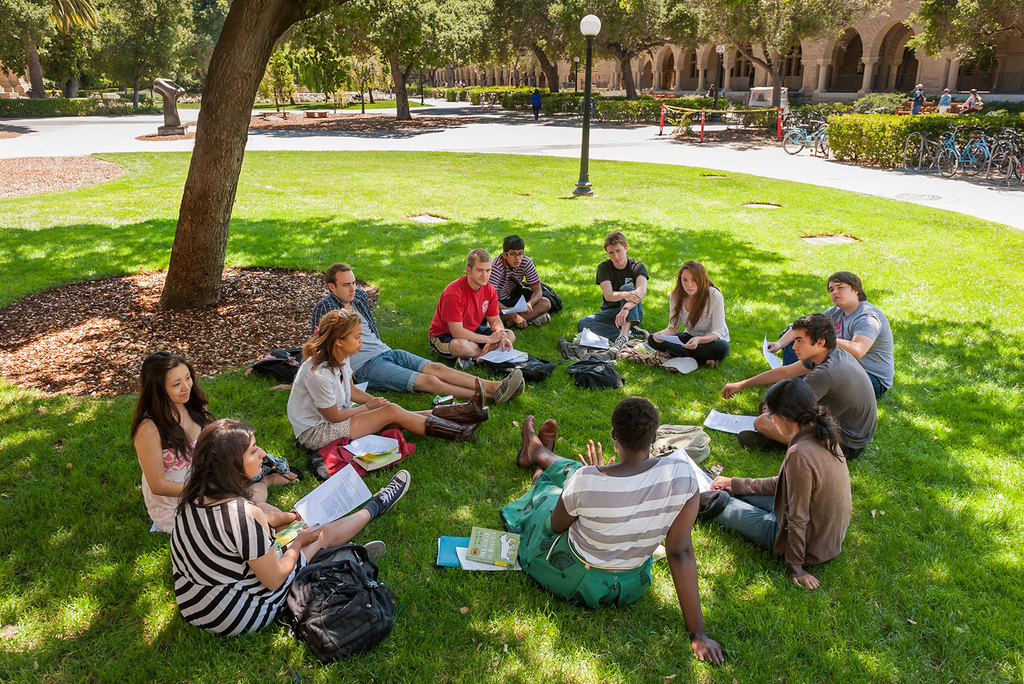 Exploratory Workshops
Our workshops are exploratory in nature and are taught in a seminar-style setting that emphasizes participation, interaction, communication, and developing critical thinking skills. Instructors bring their particular areas of expertise to provide insight into a variety of academic and professional fields.
Entrepreneurs Panel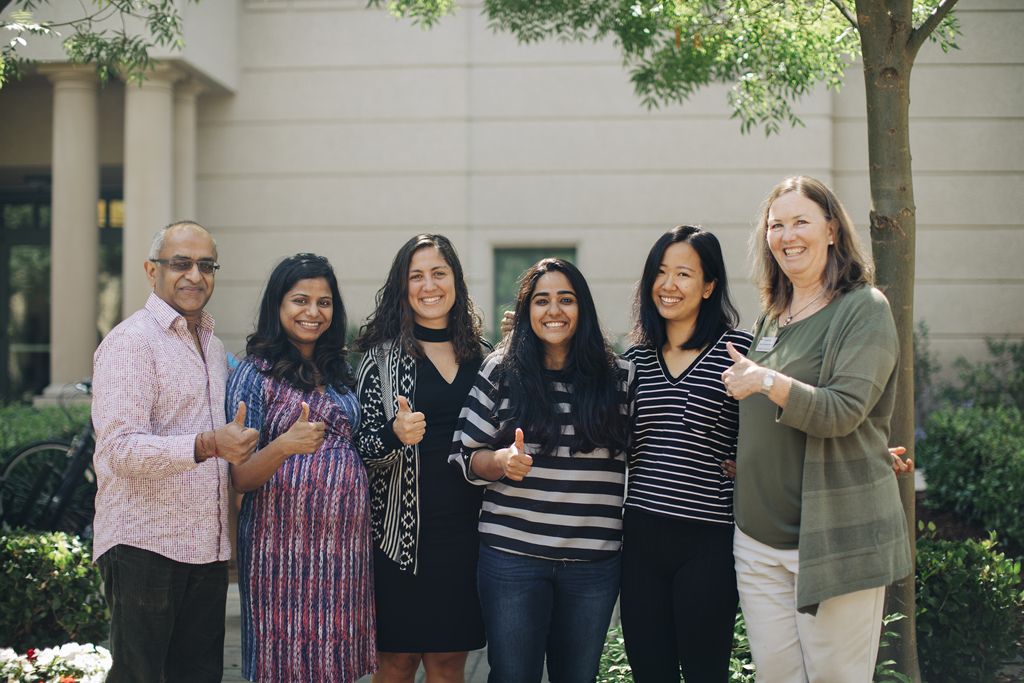 Entrepreneurs Panel
Organized and moderated by a Stanford Pre-Collegiate Studies lead instructor, this panel event brings Silicon Valley entrepreneurs to campus for an on-stage, guided discussion. Panelists typically include a social entrepreneur, a small-business entrepreneur, and a large-company entrepreneur, each selected by the instructor to ensure students hear a variety of perspectives on business and creative leadership.
Multicultural Exhibition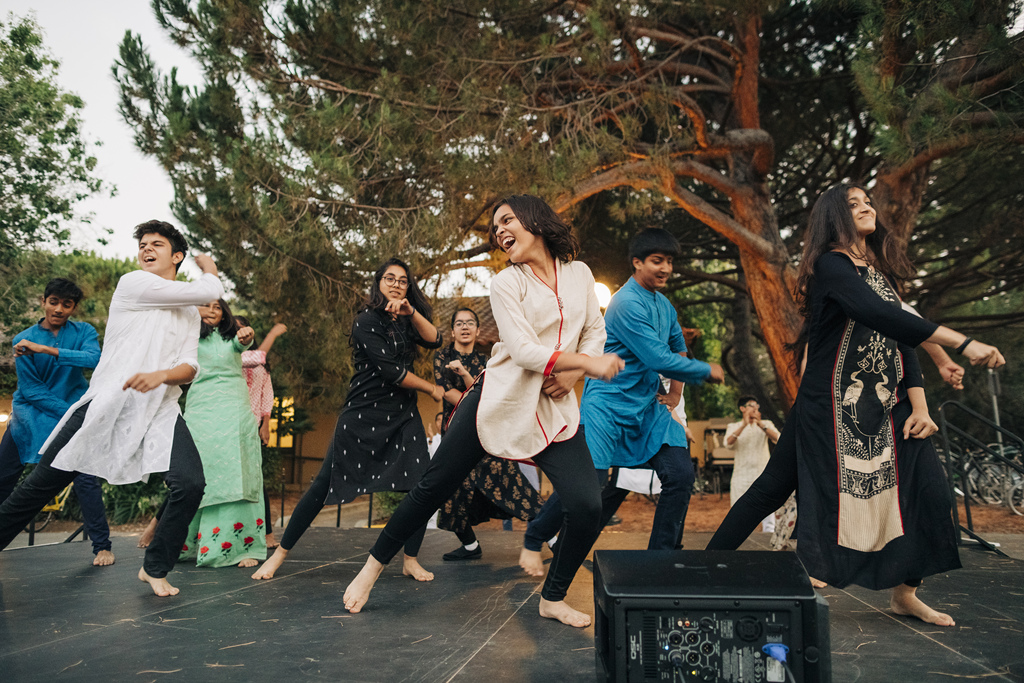 Multicultural Exhibition
Our workshops are exploratory in nature and are taught in a seminar-style setting that emphasizes participation, interaction, communication, and developing critical thinking skills. Instructors bring their particular areas of expertise to provide insight into a variety of academic and professional fields.
Global Solutions Project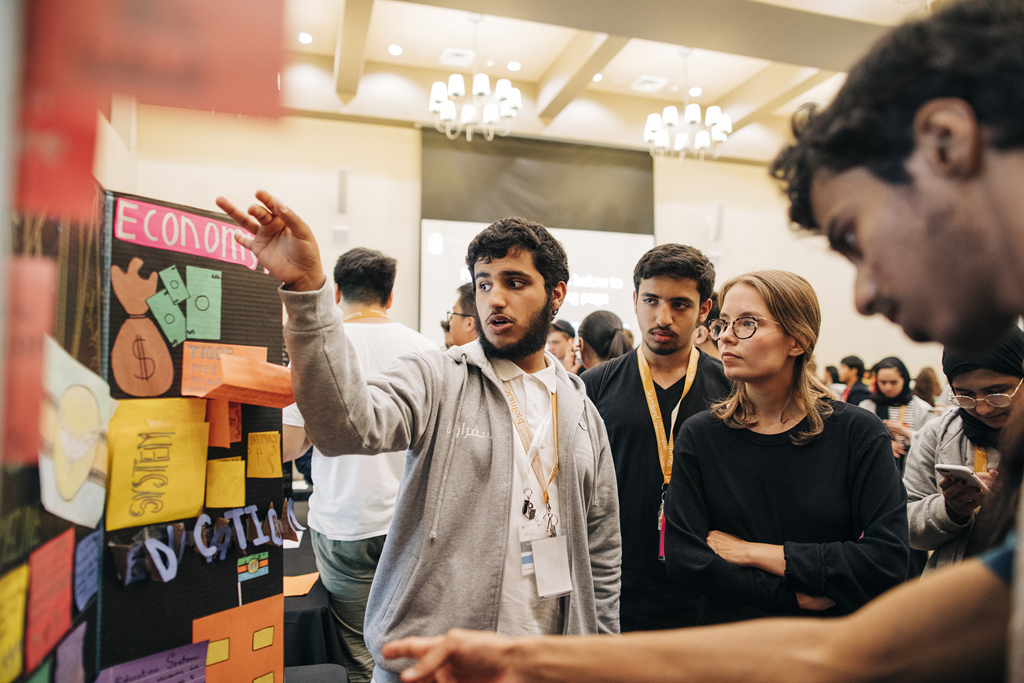 Global Solutions Project
In this capstone project, participants are divided into multi-country cohorts to solve world problems by collaborating to develop a country. During this project, participants learn about diversity among global communities, explore key global problems, and brainstorm and define potential solutions. At the end of the program, teams present their solutions and are evaluated by a panel of judges consisting of instructors and staff. Each group is rated, scored, and acknowledged with a distinct certificate for their mastery of a particular learning goal.
Lifelong Memories
In addition to experiencing Stanford's vibrant campus community, participants get to explore Silicon Valley and the surrounding Bay Area through exciting field trips off campus.
Housing & Dining
Participants experience what it is like to be a Stanford undergraduate by living in campus residences and eating at the dining halls.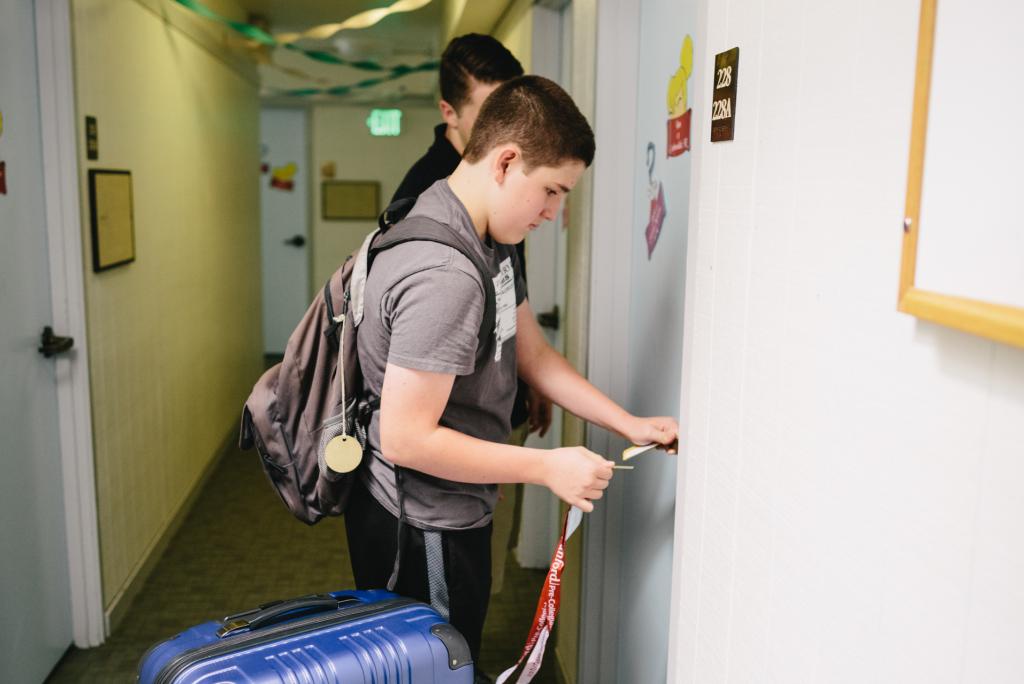 Stanford Dormitories
Living in the dormitories used by Stanford undergraduates during the academic school year, participants are exposed to American college life. Typically, each dormitory has its own lounge, computer cluster, laundry facility, and common area. While groups from other countries participate in the program simultaneously, International Institutes staff strives to place each group within a single dormitory. Trained residential staff live in residence and serve as counselors and mentors with the mission of supporting a safe, warm, and inviting residential community.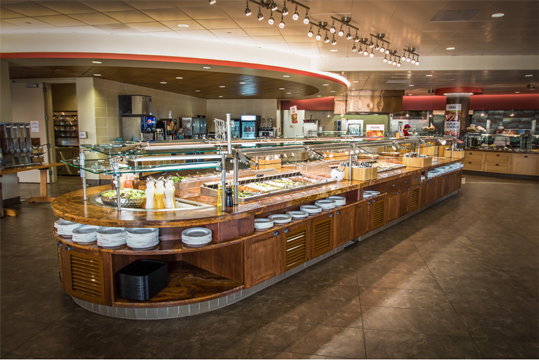 Dining Halls & Meals
Participants eat in Stanford's cafeteria-style dining halls, which serve a range of healthy options for breakfast, lunch, and dinner. The dining halls provide vegetarian and vegan options at every meal and are able to accommodate special dietary needs, such as halal or gluten-free meals. Mid-afternoon snacks are served daily at the residences. Special catered "Cluster Dinners" are typically provided once per week.
孙蓬瀛
I got so excited. We had an introduction class addressed by a professor and then we went to the lab. I read medical books and watched a lot of surgery videos, but that was the first time I held real organs. The organs were so beautiful and that is the reason why we are still alive. Before that day, I knew I'd like to be a cardiologist. After that, I feel much more sure about that. Medicine is what I live for. And I am gonna go for it for the rest of my life. Thanks a lot for offering me such good opportunity to entering this program.
Tang(唐朝阳)
"I like this program not only because of the enjoyment but the learning about life, people, and new knowledge. The robot class impressed me most because I never touched a robot before so that is my first time to get some experience in computing. I like the professor, who is Chinese, because I'm impressed by Stanford diversity, not only students are diverse but professors too."
Frances(彭麟荃)
"This Summer program is amazing because we have met people from many countries like Cyprus, Japan, and Canada. We also have some pretty good academic experiences, taking a bunch of classes I've never taken before, which enables me to know more of my interests and aid me to discover what my real passion is."
Vlad (郝星宇)
"Although I have similar classes in China, classes in Stanford still give me a new chance to learn more about college. My favorite part is in the School of Medicine. They use the latest technology to teach students. That is why I want to become a student of the School of Medicine."
Amanda(沈懿珊)
"I had a great time here in Stanford. I enjoy all the lectures and activities, especially fountain hopping. All people here, including the counselors are super nice. I hope that I'll have chance to meet them again. This summer is so remarkable and unforgettable to me."
Blair(张苧月)
"I think the most important or characteristic thing that I learned from either Stanford teachers or students is their passion. Passion to learn, to explore, to insist on what they truly love. I won't forget this kind of contagious passion and self-motivation, and keep it mind in my further learning process and lifetime."
Stiles(刘咏怡)
"I had a great time at Stanford, two weeks passed too short, this is one of the best universities not only in the States but in the world. The teachers were all very nice and numerous, the knowledge they taught me was unforgettable - I'm glad that I can take part in this program, and I hope that one day I'll stand in this campus as a student."
Joey(潘家懿)
"It was a great pleasure to meet people from America, Canada, China, Cyprus, Japan, etc. I extended my horizons via experiencing numerous cutting-edge technologiesas well as marvelous activities in Stanford. I really enjoy my time in here. And, at last, I hope all of you a bright future."
Ferry(付雷)
"The most impressive activity I have is the hiking. A big group of students walked together, singing, talking. Counselors like Tyler give me a lot of advice on how to get into the best college like this. I have learnt that only with a group of people together, can we have the chance to be much stronger."
Oscar(梁策)
"Fountain hopping has been my favorite activity because it is the tradition of fresh Stanford students and it is really great fun. In the fountain hopping, everyone gets wet and that make it easier to be friends and improve our relationships here."
Daniel(项云海)
"It was really nice to make friends with students my age from various cultures,especially the Japanese students with whom I lived with in Tridelt. There were some really decent lectures, all given by awesome professors, as well as loads of activities that were just as exciting."
Japanese, 2015
"We could talk with a lot of people from various countries and know their culture."
Chilean, 2015
"It is very hard to choose. I met lots of new incredible people, I had a great time during class and out of class, and I learned many things I couldn't learn anywhere else. The quality of everything was very good and I enjoyed every moment.."
Australian, 2015
"This has been an amazing experience for me and I would like to thank everyone for allowing Scotch to go."
Indian, 2015
"The classes were amazing, especially Intuitive Problem Solving and the Leadership class."
Project Time
6th - 18th Aug 2019 (13 Days)
Requirement(Students must meet at least one of the following):
Awarded students from ASDAN STEM programs.

Students who have gained an ASDAN CoPE/AoPE certificate.

A command of the English language equivalent to IELTS level 6.5 or TOEFL 90.

As the program is conducted entirely in English, a recommendation letter from your teacher to prove your English - proficiency, and a phone interview with ASDAN staff member are required.
Admission Quota:
35 High School Students

Aged between 14 and 17 years old when Stanford takes place - thus date of birth be between 19/08/2001 and 18/08/2005. If your birthday is after 18/08/2005, you should apply for the following year.

There are a limited number of places for each course, places are assigned on a first come, first served basis.
Registration and Payment Process(2019)
Step 1: Application and Selection (from December 2018 to April 2019)
Click the Sign up button to sign up, or send the application form to this email address: summerschool@seedasdan.org
Step 2: Qualification Evaluation (from December 2018 to April 2019)
Within five working days after the application is received, ASDAN staff will contact the student who signed up, evaluate the qualification or arrange a telephone interview.
Step 3: Confirmation (January to April 2019)
After passing the qualification evaluation, the student will sign the contract, pay and select the relevant courses.
Step 4: Visa (April, May, June 2019)
ASDAN China will make an appointment and arrange all other visa formalities.
Step 5: Preparation (June, July 2019)
ASDAN China will provides online cross-cultural communication training.

Provide instruction for students to learn in advance.

ASDAN China will provides student guidebook which will give student a detailed instruction about logistics preparation and studying abroad.
Step 6: Study Abroad (August 2019)
According to the agreed collection site, ASDAN China's group leader will collect students to abroad and return to China.