European Economics Olympiad
"Let the knowledge of economic and financial principles be an asset for every individual. Let this common knowledge improve our freedom, politics and society."
European Economics Olympiad
European Economics Olympiad
Largest Economics and Finance Contest for High School Students
30000 Students Participating in EU
500+ Participating Schools in EU
Preliminary Round, National Round, Global Round
Entry to Global Round (National Champion Team)
About the European Economics Olympiad
The European Economics Olympiad (EEO) was established in 2016 by the Institute of Economic Education (INEV) – a non-profit organization in Czech Republic. Throughout the years, it has become the biggest economics and finance competition in Czech Republic and Slovakia and expanded to other European countries with over 30,000 students and more than 550 schools taking part each year. The EEO aims to fill the gap in teaching economics and finance at high schools, and strengthen the skills of adolescents in logical thinking, problem-solving and critical thinking, spark their interest and support them on their career path.
About the Organizer
Institute of Economic Education (INEV) is a leading non-profit organization in economics and financial education, sponsored by many organizations, such as the Czech Ministry of Education, Youth and Sports, the Czech Central Bank, University of Economics, Prague, PwC, etc. with the aim to improve economics education, financial literacy and establish a platform which would identify and support young talents in economics and finance. INEV is working intensively on promoting the European Economics Olympiad internationally and providing academic support in economics and finance for high school teachers.
Website:https://inev.cz/en/
ASDAN China (ASDAN Academy) is now an exclusive partner with the INEV from 2020 to host the National Round in China. Both organizations aim to offer high school students in China an outstanding economics education in an international level.
European Economics Olympiad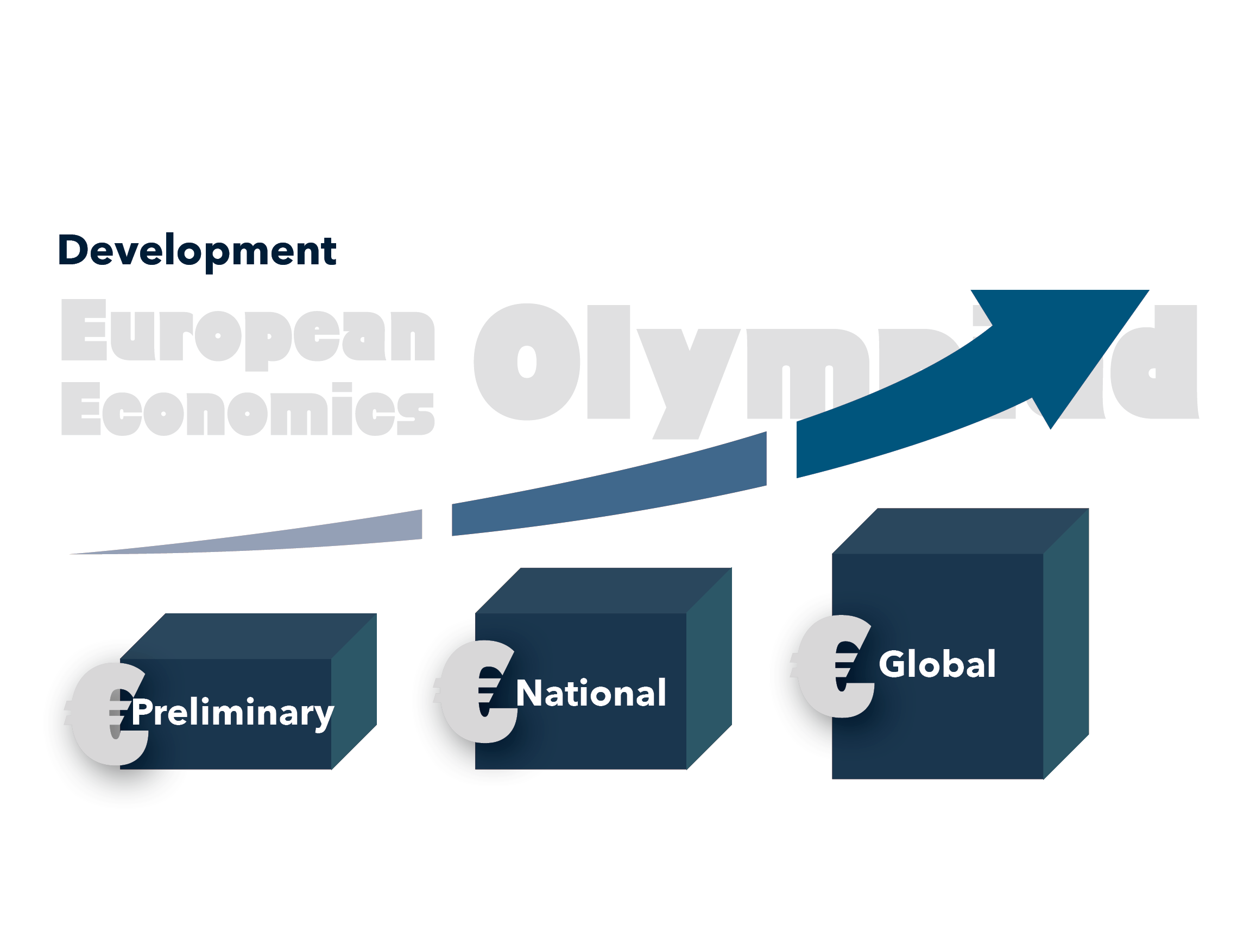 Preliminary Round
Preliminary Round
Date: 4th December, 2022, 14:00-15:20 (80 minutes) Deadline for registration:offline - 20th November 2022; online - 27th November 2022.
Location:Exam Centres (offline) or Online
Format:Individual written test, 50 mutiple-choice questions
Eligibility: Grade 10–12 (Senior Division)
Content:6 economics modules

Methodology of economics, basic definitions and economic history
Microeconomics
Macroeconomics
International Economics
News, public policy, European union
Financial literacy
Awards
Individual
National Honor Award:National Top 5%
High Distinction:National Top 15%
Distinction:  National Top 25%
Outstanding Award:National Top 35%
Credit Award: Regional Top 20% (excluding national awards)
All award winners will be invited to participate in National Round.
School
The top 5 students' scores will be accumulated as the total score of the school. Schools with less than 5 participants will not be involved in the ranking.
Gold:National Top 10%
Silver:National Top 25%
Bronze:National Top 35%
All award winners will receive a digital certificate and be invited to participate in the National Round. All delegates will receive a digital certificate of participation.
Region Division
Northern: Beijing, Tianjin, Heilongjiang, Jilin, Liaoning, Hebei, Inner Mongolia, Shanxi, Shandong
Eastern: Shanghai, Zhejiang, Jiangsu
Southern: Guangdong, Guangxi, Fujian, Hainan, Hong Kong, Macau, Taiwan
Western: Chongqing, Sichuan, Yunnan, Guizhou, Shaanxi, Gansu, Qinghai, Tibet, Ningxia, Xinjiang
Central: Hunan, Hubei, Anhui, Jiangxi, Henan
National Round

2022-23 EEO European Economics Olympiad National Round will be the Special Committees of ASDAN ALLSTAR, despite having a very intensive schedule of academic challenges, the ALLSTAR committee has also prepared themed- social activities, which hopes to bring all a unique experience!more details please refer to ALLSTAR offical website:2022 ASDAN ALLSTAR
National Round
Date:January 2023, 5 days
Location: Shanghai
Content:

Economic Challenge:Knowledge individual written test, 2 rounds (45 minutes each round), each round consists of 4 modules:

Economic Knowledge: multiple-choice questions
Diagram analysis: short-answer questions
Analytical essay: writing
Financial analysis and calculation

Model EU: Diplomatic skills Team* Each team will represent one EU country and engage in discussion and negotiations over a series of the pressing issues. Team members are supposed to do in-depth research on the assigned EU country beforehand.
Oral Exam:Public Speaking Skills Every student is required to give a presentation for no more than 5 minutes in English. The judge may ask follow-up questions. Presentation topics will be assigned 1 hour in advance
Economic Quiz Bowl:Collaboration Team*, mutiple-choice and short-answer questions. Teams will race the clock to answer questions using a buzzer. Final score is based on the number of correct answers and the time spent on each question.
*Team Formation: 4-5 members per team. Some session of the competition  will involve team work. The committee will create a wechat group for the participants to form the team early January 2023. Participants are required to form their team before competition. Individual participants will be allocated randomly to different team by the committee.
Global Round
Global Round
Date:August, 2023
Location:European Economics Olympiad Member States (Each year one member will take turns to hold the contest).
Eligibility: Champion team from National Round.
Content: Topics related to the Preliminary Round and National Round
Fee: The qualified team will receive a free entry invitation to the Global Round (led by ASDAN China staff, travel arrangement and relevant expenses will be beared by the participants themselves).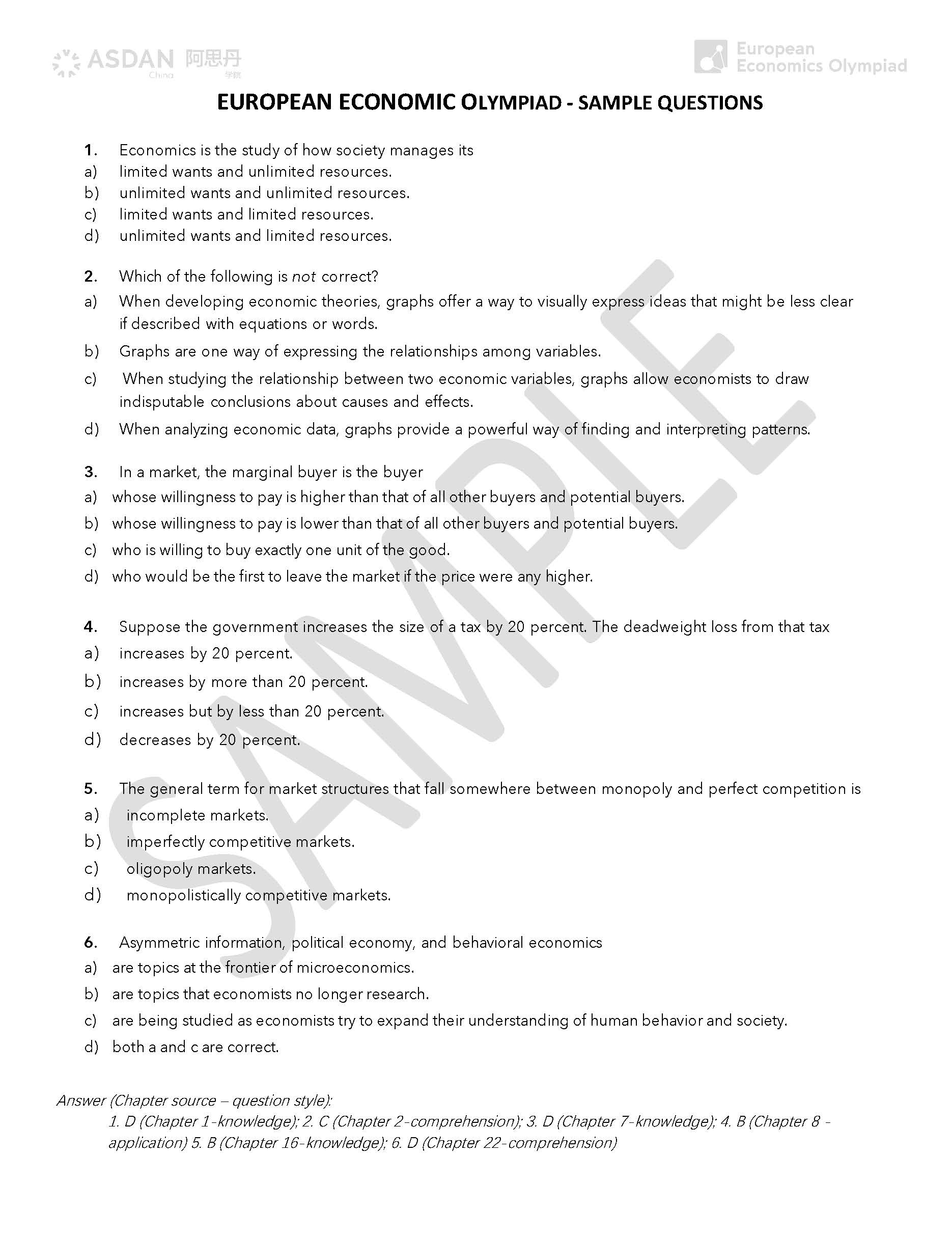 Mock Test Info:
For students who have successfully signed up and paid for EEO,EEO committee will provide twice mock tests. The mock test will be released on 10th March 2021(Committee will send the Mock Test reminder to students via email), mock test will valid until 17th April 2021. Student Account: User Name:ID Number(eg: passport number or other ID you have signed in the EEO) Password:Last 4 digital number of your phone. Mock Test