2023 Winter Oxford Global Summit for Young Leaders (China)
4001-699-686
APPLY NOW
Scan the QR code and sign up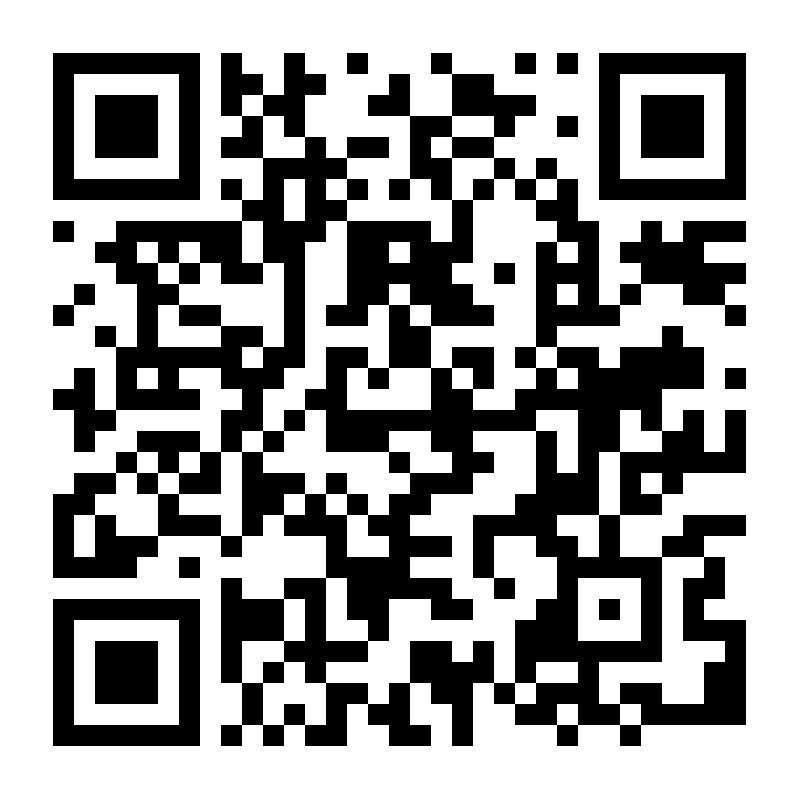 2023 Winter Oxford Global Summit for Young Leaders (China)
OGSYL Week: Jan. 25th - Feb. 1st, 2023 (8 days) Organizer:Oxford Global
Engage with mentors and speakers from the University of Oxford and industry experts
Official support by Oxford Global with an official Certificate of Completion
Academic lectures for up to 25 students and small group project tutoring
University-level projects and outcomes
4 popular academic topics:
Mathematics|Psychology
Analytical Chemistry|Biomedicine

OGSYL Introduction
Oxford Global Summit for Young Leaders is organized by Oxford Global, an institution consisting of a group of students and alumni of the University of Oxford, promoting equal access to high-quality educational conferences and summits. The team hails from all over the globe and consists of scientists, engineers, linguists, lawyers, classicists, philosophers, and economists. Each year 6,700 young people from over 40 countries around the world participate in educational conferences and summits organized by Oxford Global. They are the organizer of Oxford MUN conference as well.
Oxford Global Summit for Young Leaders is a unique international educational event aimed at developing the skills required to become future leaders and innovative thinkers. We believe it's hard for ambitious youth to find important challenges to work on, become passionate about, and dedicate themselves to. As such, we teach the skills, provide mentors and guidance, and create a collaborative environment to help young leaders tackle the pressing challenges of tomorrow. During the 8 days, students will be immersed in a program of keynote speeches, lectures and workshops designed to motivate and stimulate students from across the disciplines to become critical thinkers.
Before the COVID-19 pandemic, the Oxford Global Summit for Young Leaders was held each summer on the campus of the University of Oxford, and since 2020 has been held online. ASDAN China reached a strategic cooperation with Oxford Global in 2022. Oxford Global work with ASDAN China to select outstanding young Chinese students for the summit and provide them with the opportunity to forge leadership and develop a global perspective. In the summer of 2022, a total of 127 outstanding Chinese students from 98 schools across the country participated in the Oxford Global Summit for Young Leaders (China).
4 Popular Academic Topics(Select One)
Economics
Virtual economies and currencies: economics for the 21st century
Cryptocurrencies, NFTs, algorithm... The advent of the internet has brought a whole new dimension to economics, which has created interest and apprehension in the markets. Join us in this course exploring the limits and possibilities of virtual economies, the digitalisation of assets and money, and how they relate to more established parts of our international economic system.

Mathematics
Math modeling for real life problems
Budgets, volcanic eruptions, and the collision of whales into ships. What do all these things have in common? There are mathematical models to understand and find solutions for them. In this course, students will learn how to construct and apply mathematical modelling to problems and develop an understanding of this extremely useful tool.

Computer Science
The era of machine learning
We often hear a lot about artificial intelligence, robots, and the future of technology. In this course, you will learn about machine learning, which can be defined as the capability of machines to imitate human behavior. Through discussions on modeling, programming and ethics, this course will introduce you to new ideas in computer science. No programming knowledge is required.

Analytical Chemistry
Elemental World
Join us in exploring the elements that make up our world. In this course, you will learn more about analytical chemistry – by understanding how to quantify, separate and identify matter. These methods and analyses are part of some of the cutting-edge research being done nowadays, such as DNA sequencing, chip manufacturing and nanotechnology.

Biomedicine
An introduction to neuroscience
This course is designed to give you a basic understanding of the tenets of neuroscience, the science behind the nervous system. Through this course, you will learn about how processes such as learning, memory and behavior are being studied in the brain, and all the ways in which this discipline challenges and innovates the field of biomedical science.

Psychology
The attention economy: psychology of social media
We use social media everyday - from Myspace to TikTok, the field has been part of our lives since the early 2000s and has grown with the advent of smartphones. But do we know how it works, why do we enjoy it so much? In this course, we explore biological, cognitive and behavioral concepts of psychology by looking at social media, understanding why it's so compelling and how it relates to us.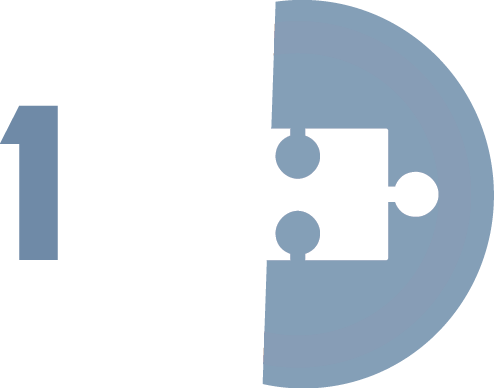 Stream Sessions(55%)
Each academic area will be led by a Stream Leader who is experienced in teaching at University of Oxford, and who may also invite experts in the field to share some of the content as guest lecturers. The lectures are mainly conducted in the form of small group lectures, and after the lecture program, there will be several rounds of group discussions to ensure the students' digestion of the knowledge. The depth and difficulty of the academic content of the summit is basically at the Oxford undergraduate level. The academic tutors will assign academic tasks to the students for pre/review every day to ensure the progress of the academic lectures.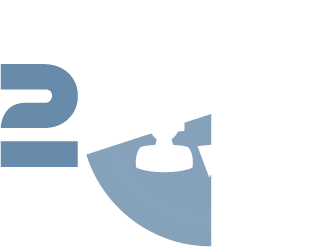 Project Tutoring(20%)
The tutorial system originated from Oxford University in the 14th century. Since its inception, it has been regarded as one of the most effective and valuable teaching systems and has been described as the 'jewel in the crown' of British education. Tutorial teaching allows you the freedom to push yourself academically and direct your own learning. OGSYL offers stream tutorials to students in all academic areas. Students will break into small teams. Each stream leader will lead 2-3 project tutors who will challenge and help students with their outcomes, like the Oxford tutorial session. Each academic team will have daily one-on-one communication with the Project Tutor to ensure their research process.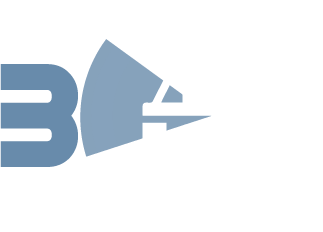 Joint Sessions(15%)
Oxford application: Key elements of Oxford admissions, and helping maximize chances of success.
Academic writing: How to efficiently complete a qualified essay that meets undergraduate academic standards?
Academic Presentation: Facing the high frequency of academic presentation, how to combine academic content and presentation skills to give a fabulous academic presentation.
Study skills at university: How to study better, read better, take notes, how to reserach.
*Some topics are subject to change. Final topics will be decided by Oxford Global and Stream Leader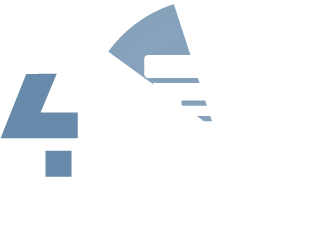 Final Presentation(10%)
The summit is oriented towards completing a project work at the undergraduate level with a problem-solving learning model. Stream leader gives out awards to the top 2-3 teams in each stream. The best projects will be invited to contribute to the academic journal of the summit.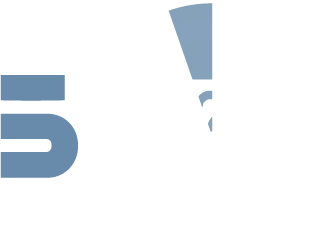 Office Hour(5%)
1 hour each day, each stream leaves one project tutor behind to help students with their questions on the taught content.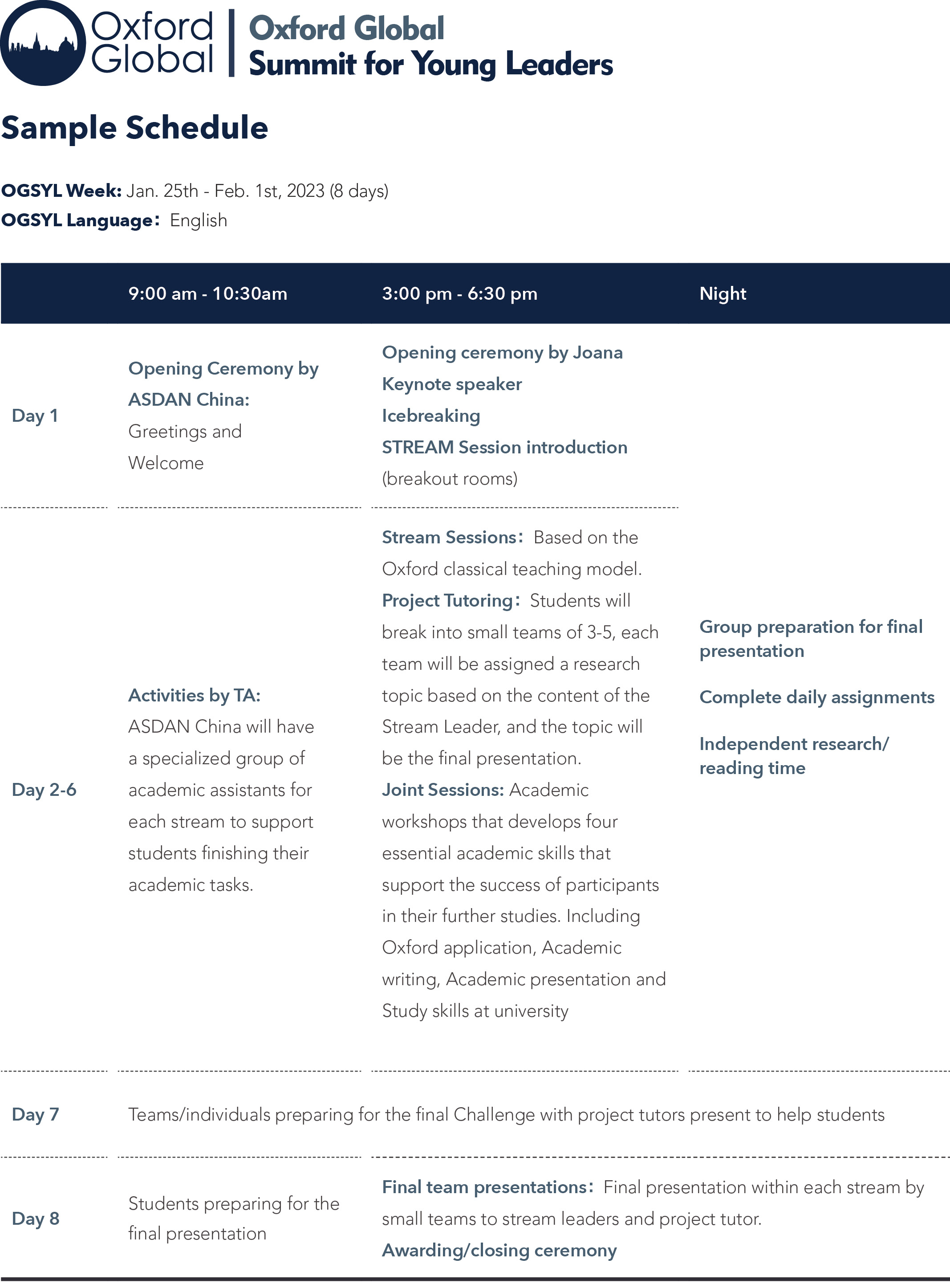 Expectation of world's population by year 2050
Population is related to a country's prosperity and people's well-being, and together with capital and technology, it determines the potential growth rate of the economy. The population factor changes slowly in most periods, but in the transition period, the change speeds up and the trend sinks strongly. The global population is facing a major change in the upcoming years and the population boom is coming to an end.
Expectation of Covid-19 cases in the year 2023-25
In this essay, we present a mathematical model aimed at predicting the number of Covid-19 cases in the year 2023-25. The main goal is to create a line graph showing the number of cumulative cases, projected from the data we have from 2020 up to now. All citations are placed beside the paragraph where relevant information is used.
Expectation of world's population by year 2050
With the development of science and technology and the improvement of medical and living standards, the increase of population has also led to the intensification of population aging, which means that in the future, perhaps in 2050, the labor force will decline significantly, the social burden will increase, and the potential economic growth rate will gradually decline.
How AI and ML can be applied in national internet security and its sub-unities, with viable precautions
In many parts of the world, governments emphasize national cybersecurity (internet security). Related internet security systems have been widely studied in many branches of artificial intelligence (AI), from computer vision to robotics. Among all those categories, machine learning (ML) could be regarded as the most multiuse and non-specific method. Summarized to Anthony (2022), over $28 billion was funded in machine learning applications, and over $14 billion was invested in the machine learning platform, which occupies the most in the field of AI.
Earthquake Prediction System based on machine learning technology
In recent years, the improvement of computer performance makes machine learning more and more widely used in geophysical research. The application of pan, especially in geophysical exploration, is progressing very rapidly. However, machine learning in the field of earthquake prediction is still in the early exploratory stage. This paper mainly discusses and designs an earthquake prediction system with Machine Learning. The system includes long - term and short - term forecasting. At the same time, machine learning can improve the accuracy of prediction.
Review of Parkinson's disease: Causes, diagnoses, and treatments
Parkinson's disease (PD) is the second most common neurodegenerative disorder which is mainly associated with symptoms like tremor, rigidity, slowing movement and other complications including mental disabilities and cognitive problems.[1] The symptoms progress slowly. Initially, patients suffer from tremor on one side of the arms. As the disorder progresses, patients may find difficulties when talking or moving. However, no cure is currently available for Parkinson's disease. Treatments and medications are aimed to control the symptoms or slow down the progression.
A brief overview of Alzheimer's disease
Alzheimer's disease (AD) is a neurogenerative disease caused by both genetic and spontaneous factors. As the pathological changes progress, symptoms ranging from mild cognitive impairment to severe dementia could occur. Currently, there is no cure for AD, but several treatments have been developed to mitigate the symptoms and slow down the disease progression. Meanwhile, various testing methods have been developed to detect this disease. This essay aims to provide an overview of AD in terms of the anatomical location of pathological changes in the brain, the potential symptoms, detection methods, and available treatments. We will also present our evaluation of the detection and treatment methods.
An Investigation Into The Techniques In Drug Analysis
When developing a new drug, it is critical to possess a comprehensive understanding of the drug itself, including its composition, properties, and effects, to determine if it can be suitable for human use. This essay will go on to explore the most appropriate techniques to use when understanding a drug designed to target lung cancer, and their corresponding benefits.
The Report of The Advanced Analytical Technologies For The New Drug
Lung cancer is a malignant tumor originating from the bronchial mucosa or glands of the lung. Smoking is one of the most common causes of lung cancer, and 80% - 90% of smokers will suffer from such malignant tumors [1]. It remains a major worldwide health problem, accounting for more than a sixth of cancer deaths [2]. The high morbidity and mortality rates make it one of the most dangerous tumors diagnosed. Therefore, the treatment for lung cancer is highly researched.
Is it possible to become addicted to social media and whay?
Addiction refers to a chronic brain disorder with biological, psychological, social and environmental factors influencing its development and maintenance (American psychological association). The criteria for addiction are various. However, withdrawal and tolerance suggested clinical addiction overall. Withdrawal is the syndrome caused by the cessation of a substance. The common syndrome includes nausea, insomnia and anxiety. Tolerance refers to the significant reducing effect of the substance after continuous substance use. Patients need to increase the dose to achieve the same desired effect (American psychological association). Social media is a virtual community where people can post their daily lives, thoughts, and comments (Dollarhide, 2021).
Which model best generalize how people start using social media, applying evidence from age groups?
Social media, a newly developed technology that allows users to create and share comments, pictures, or videos, or to participate in the social network, has become a significant part of people's lives (Dollarhide, 2021). According to statistics from Digital 2022: China: as of 2022, out of 1.02 billion mobile phone users in mainland China, 983 million were social media users, occupying 68% of the total population (Kemp, 2022).
Is fiat money dead? An economic report investigating the rise and rise of digital money in 2022
Globalization and digitalization has become the main theme of the current global development, people demand for improvements to make things more rapid, more convenient, more user friendly, and more equal. As fiat money was designed thousands of years ago, it's hard for this system to satisfied the current need of development. Technological developments are pushing the financial system to evolve itself and new types of currencies seem to have the possibilities of replacing the money system that haven't change for thousands of years.
OGSYL Week:
Jan. 25th - Feb. 1st, 2023 (8 days)
OGSYL Quota:
No more than 25 seats per topic
Topics:
Mathematics | Biomedicine | Chemistry | Psychology
Targeted Delegates:
High school students
How to apply
Method 1:Meet any of the following conditions
1. Students who get A or above in ASDAN EPQ;
2. Global or National awards in ASDAN Science, Economics, Finance and Business assessments and challenges
3. IELTS 6 or TOEFL 80 level, and A or above in relevant subjects
Method 2:Recommendations from invited partner schools
Method 3:If the student does not meet the above criteria, the student needs to submit a school transcript, a recommendation letter from the subject teachers in school, and be interviewed in English by ASDAN China