New York Film Academy (Beijing)
"There is no better way to become a filmmaker than to simply start making films"
New York Film Academy
The New York Film Academy is accredited by the National Association of Schools of Art and Design (NASAD) and in China, the Chinese Education Department. The NYFA was founded in 1992 by Jerry Sherlock, a former film, television and theatre producer. Their philosophy is based on a "learning by doing" approach, which every curriculum stems from. They offer an intensive, hands-on, and total immersion approach to learning. Students come from all over the world to learn and work together, which creates a rich exchange of culture and ideas, and builds an international network for their graduates. The Film Academy is also honored to be the film school of choice for many Hollywood filmmakers, actors, and figures from the entertainment and media world. Every year, hundreds of Chinese students join the NYFA summer camps.
From 2016, the New York Film Academy will work with ASDAN China to offer high school summer film programs at the Beijing Film Academy. Chinese students will be able to enjoy some of the best American film education in China.
First film course for junior and senior middle school students in China
Learn filmmaking from a distinguished American film academy right here in Beijing
A dream platform for passionate art students who wish to shoot their first professional film
Artistic Support for students wishing to apply to top universities
All teaching facilities and filming equipment provided by Beijing Film Academy
Teaching Methodology
Courses given in English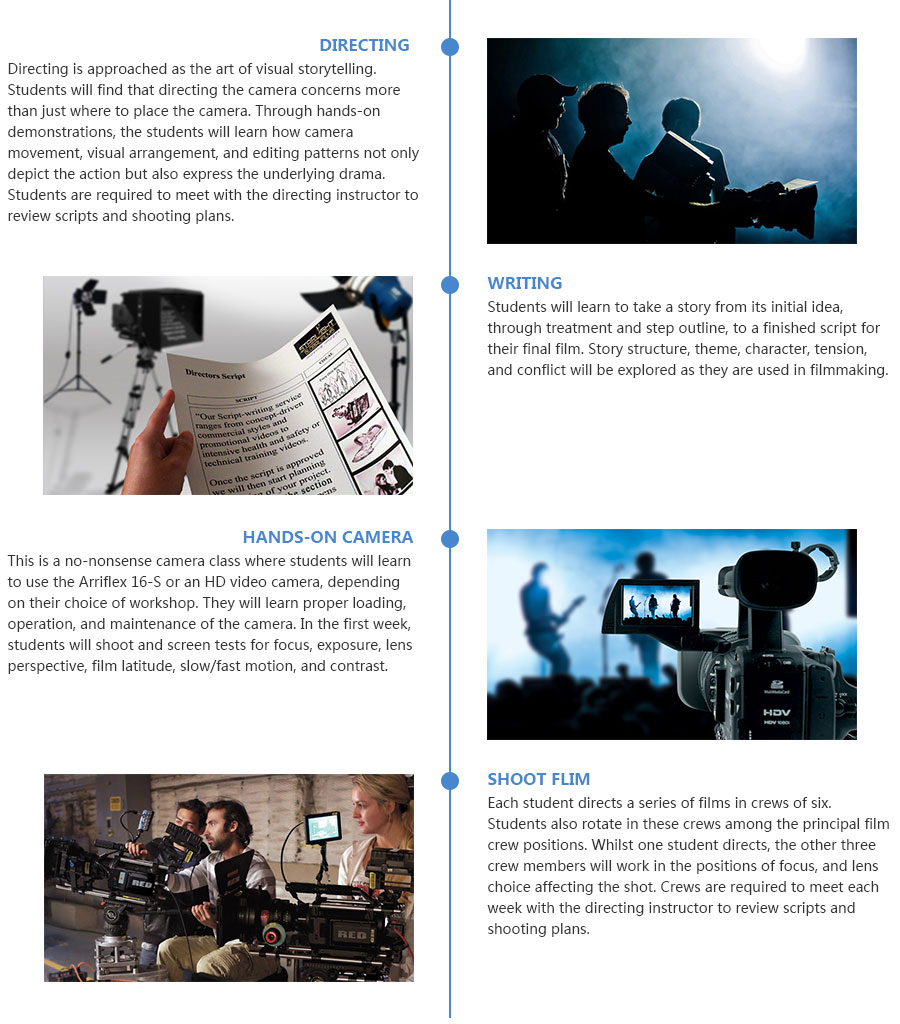 Offer an intensive, hands-on, total immersion approach to learning
Teaching philosophy
Filmmaking needs lots of knowledge. The combination of that knowledge is what makes the New York Film Academy different. In this course, students not only learn how to use cameras, lights, film editing software, they also gain relevant film knowledge.
In line with the mission and philosophy of the New York Film Academy, this program is intensive and focused on hands-on learning. In the NYFA film camps, each student writes, shoots, directs and edits his or her own films. Our film camps are designed for people with little or no experience in making films. This program focuses on the fundamental elements of visual storytelling that enable the participants to direct their own projects.
Date
Day
A.M.
P.M.
Aug.3rd
Monday

Arrive Beijing Film Academy and register

Opening Ceremony

Aug.4th
Tuesday

Screenwriting

Hands on Camera #1 & 2

Aug.5th
Wednesday

Director's Craft

Hands on Camera #3 & 4

Aug.6th
Thursday
Editing
Hands on Lighting
Aug.7th
Friday
Students Production Meetings
Project Advertisement
Production Meeting
Aug.8th
Saturday
Crews Shooting Day
Aug.9th
Sunday

Edit Films

Aug.10th
Monday
Turn in final films

Student Screening and Graduation
Ben Maraniss
Ben Maraniss is a writer, director, teacher and journalist. He earned an MFA in Film and Television Writing from the University of Southern California and holds a BA in American Studies from Amherst College. Ben has worked extensively with Spaceman Media and Scrollmotion, creating dozens of short films, commercials, and interstitials, which have appeared on AMC, Comedy Central and Super Deluxe. His articles on cinema and pop culture have been featured in the N+1 Film Review Supplement. Ben's pilot scipt Weimar won the 2015 Pilot Grand Prize in the International Screenwriters Association's TRMS-Austin competition. He is currently working with producer Fredrica Drotos on television series about a UK tabloid reporter covering a murder in which her editor is implicated, and on Secret & Confidential, a detective series set 1970s-era Washington D.C.
Yilong Liu
Graduated from New York Academy, majoring cinematography and lighting. His project, DIMITRI, had selected by Berlin Short Film Festival as Best cinematography and best film award in 2015. His project, The Exchange, has won the best cinematography of Los Angeles Short Film Festival in 2017. His project, No where to go, a dance advertisement had won the best visual entry of Los Angeles Short Film Festival in 2019. His other projects also had IMDB Official credit.
Yuan Li
Yuan Li is a Documentary Filmmaker, Photographer based in Shanghai; she has great passion for movies that focus on society, conflicts of human beings, subcultures, values communication and teamwork. Solid Experience on professional sets, as well as Pre-Prodution, Production and Post-Production; Organizing, Adaptable, flexible, hard-working and team player. Graduated from MFA Documentary in New York Film Academy. Stayed in Los Angeles for 3 years, participated in over 50 fil projects as Director, Videographer, Producer, 1st AD, Editor, Still Photographer and so on. Also worked with many talented people on professional projects in the film industry of Hollywood.
She participated in documentary productions, explored the Dominican Republic and shared the impact of foreign cultures. Working with local media in Los Angeles to report on hot current events, disseminating every voice that is worth recording. Taking pictures of multiple film festivals, using lenses to record the touching moment of life.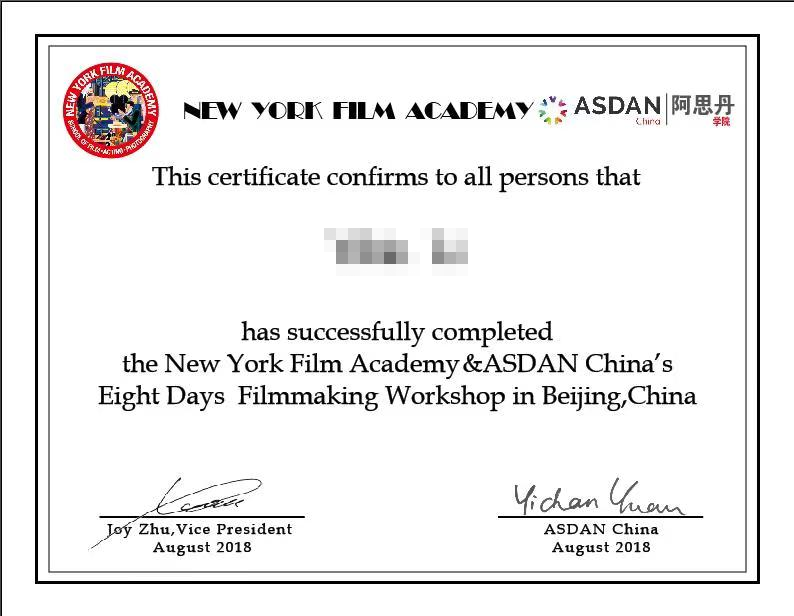 Certificate of Completion by NYFA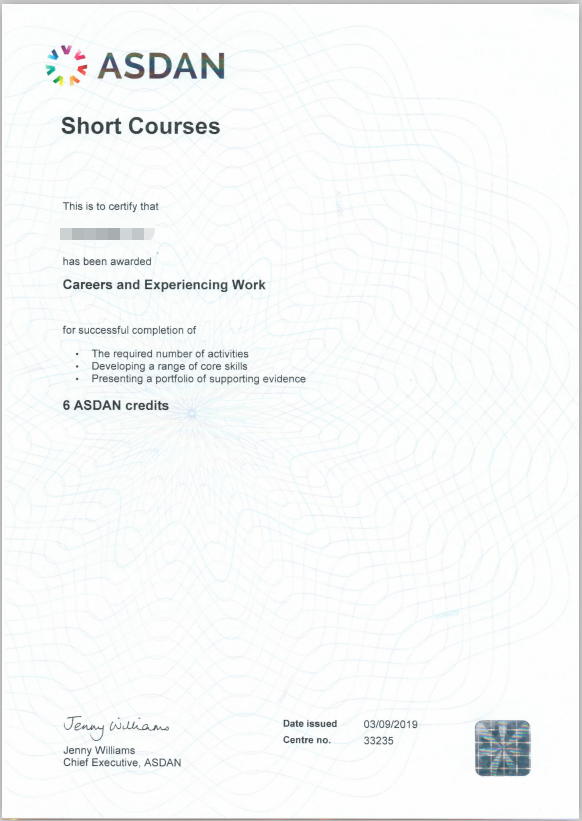 Certificate of Careers and Experiencing Work by ASDAN
Six students as a group will complete a 5 minute film.
2019 Students Short Film(Section A )
I dream of you
The rabbit
Utopia
who am i
2019 Students Short Film(Section B)
Six students as a group will complete a 5 minute film.
2018 Students Short Film(Section A )
The Letters
救赎
Ready for it
Crush
2018 Students Short Film(Section B)
decay
The confession of Murderer
A Lesson
Big Bro
Six students as a group will complete a 5 minute film.
2017 Students Short Film(Section A )
A Ture Story
Illusion
Secert
God Eyes Always on you
2017 Students Short Film(Section B )
Dreams Do Come True - Angel
Lead The Path
Capture re
the wish list
Six students as a group will complete a 5 minute film.
2016 Students Short Film(Section A )
Once Upon a time
The Exhibition
Dropping
Show off
Father's Pigeon
STAKING
2016 Students Short Film(Section B )
Found My Savior
Exchange
Imaginary Escape
Taking Dream
Who Are You
Six students as a group will complete a 5 minute film.
2015 Students Short Film
The Keeper
一分米的距离
$5 For Love
DOOR 向默片致敬的经典新作
Registration
Apply Online: go to the official registration website www.seedasdan.org/NewYorkFilm_en.jsp to register online and select your payment method.

Apply Offline: Call ASDAN China to ask for an application form with payment instructions.
Admission Quota
60 Junior and Senior Middle School Students
Who can apply?
Junior and senior middle school students who are passionate about filmmaking and creative art.

Students who wish to apply for an art major or to study abroad.

Students who have good English from being taught in English.
Date Due
30th June, 2020
Refund Policy
If, for some reason, a student is unable to attend after paying the fee, please notify us in writing before Jul. 1st, 2018 and 10% of registration fee and logistic fee will be deducted. If after Jul. 2nd, 2018, 75% registration fee and all logistic fee will be charged.