Imperial College London Online Programme
4 Popular Topics:Engineering | AI and Machine Learning | Medical | Financial Economics
Date: February 6th - 13th, 2022 (8 days)
Grade:10 - 12
Official programme supported by Imperial College London
Intensive academic lectures, seminars and practical courses
Participated in the Global Space Design Challenge, simulated enterprise and accomplish RFP
UK G5 University Application and Career Workshop
Official certificate from Imperial College London with a certificate of participant award from UKSDC
 Imperial College London Online Programme
Imperial College London is the world's top ten universities with an international reputation for teaching and research excellence. Imperial is the only university in the UK to focus exclusively on science, medicine, engineering, and business. A community of problem-solvers dedicated to find innovative solutions to the world's biggest challenges. Consistently rated amongst the world's best universities, Imperial is committed to developing the next generation of researchers, scientists, and academics through collaboration across disciplines
The Imperial College London Online Programme chooses the most popular majors. It upholds Imperial's practice-oriented educational model, developing teamwork skills, communication skills, and leadership through group learning and seminars. With design and teamwork challenges, theory with practice to stimulate innovation and practical problem-solving skills. Students will meet top professors' expert teams, scientists to learn more about professional development and consider their future professional choices.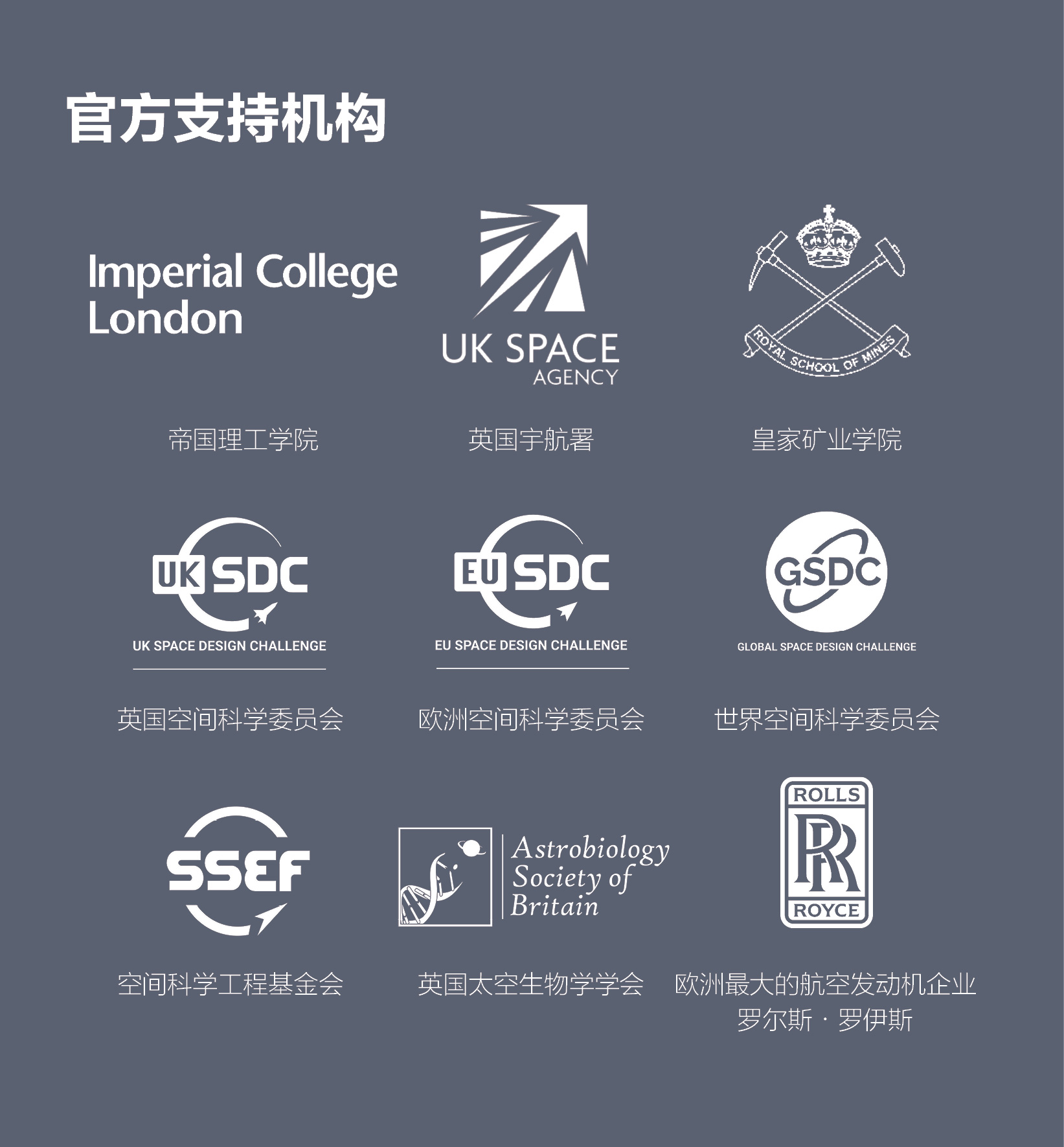 Why Imperial College London
Faculty
*The above all are the sample instructors, the nal instructor is subject to change by Imperial College London.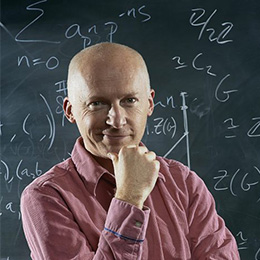 Marcus du Satoy FRS,OBE - Engineering & AI and Machine Learning
Marcus is a Professor of Mathematics at the University of Oxford
Professor Marcus was previously President of the Mathematical Association, an EPSRC Senior Media Fellow, and a Royal Society University Research Fellow.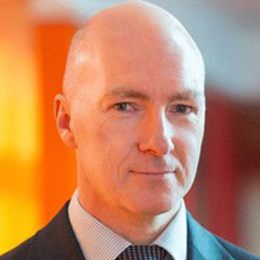 Professor Mark Sepfton - Engineering    
Professor Mark A. Sephton is Head of Earth Science and Engineering at Imperial College London
Professor Sepfton is a Geochemist and Planetary Scientist. He has held senior leadership positions and international committee roles, the latter often with NASA and ESA.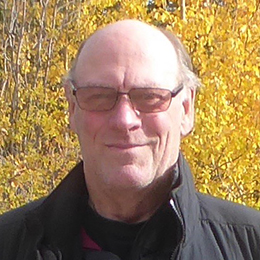 Dr Randall Perry - Engineering & Medical
Dr. Perry is a Senior Research Investigator at Imperial College
Dr. Perry has a B.S., M.S., and Ph.D. from the University of Washington. He has held the US and Canada National Science Foundation Fellowship at Oxford University and has a NASA certification in Astrobiology.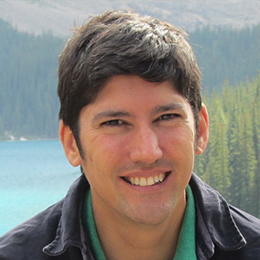 Dr Richard Ghail - Engineering
Dr. Richard Ghail is a lecturer in Engineering Geology at Imperial College London.
Dr. Richard Ghail's research interests are in The London Basin Forum, Intraplate Processes and the Neotectonics of Great Britain, Plate Tectonics of Buoyant Lithospheres, and EnVision.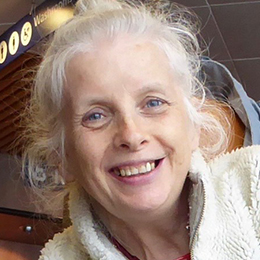 Jenny Lyons - Medical
Director of Education, British Space Science and Engineering Foundation
As a passionate believer in the benets that practical science brings to school-based learning, Jenny has taught in both the private and public sectors and worked with various agencies to promote and fund Science Clubs.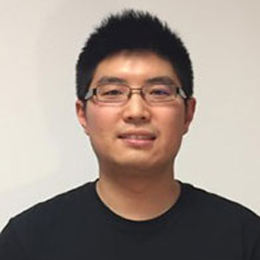 Jian He - Engineering
Engineer
After completing his master's degree in Chemical Engineering at Imperial College, Jian currently works as a reliability engineer in the petroleum industry, specializing in technical risk management and system reliability solutions in the hostile underwater environment.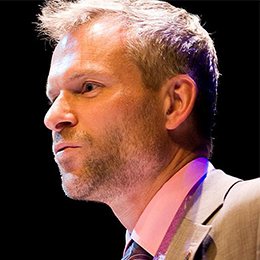 Jeremy Curtis - Global Space Design Competition
Jeremy Curtis leads the UK Space Agency' s Space Education Programme
A major focus of the programme has been the package of education activities in support of Tim Peake' s mission to the ISS, which were taken up by over 2 million young people. In 2017, he was awarded an honorary Doctor of Sciences at Queen Mary University of London.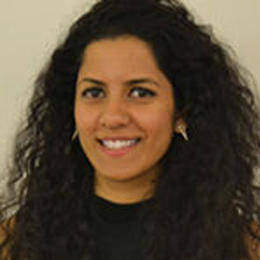 Trisha Saxena - Financial Economics  
Trisha currently works in Finance at a large international investment bank in London
Trisha represented the UK at the International Competition. She currently serves as Vice-Chair.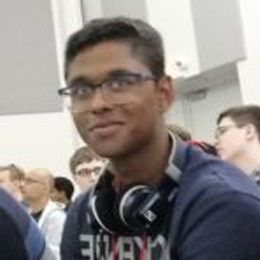 Neelesh Ravichandran - Engineering & AI and Machine Learning  
Working at Credit Swiss
Neelesh is an AI and Electrical and Electronic Engineering graduate from Imperial College. He is currently working at Credit Swiss. He supervised the 2017/18 Internationals (ISSDC) trip to the Kennedy Space Center, Florida.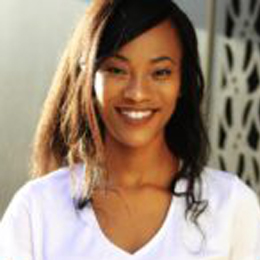 Kamogelo - Medical
the national Rutherford Best Science Knowledge Award
Kamogelo has a medical degree from the University of Cambridge. She had the privilege at the International Space Settlement Design Competition at NASA's Kennedy Space Center.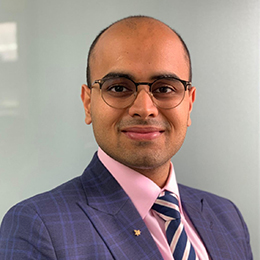 Vipul Joyti - Medical
Member of the Royal Aeronautical Institute
Vipul Jyoti currently practices with the ophthalmology at Princess Alexandra Hospital, Essex specializing in Glaucoma and Emergency Eye Care. He has helped with an education programme at NASA's Kennedy Space Centre in 2013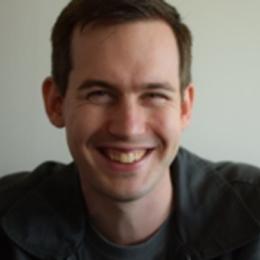 Scott Fisher - Engineering
Scott Fisher is a Chartered Member of the Institute of Mechanical Engineers (IMechE).
Scott Fisher is an Opto-Mechanical Engineer currently working at Surrey Satellite Technology Ltd (SSTL), UK, where he develops optical payloads for Earth Observation Satellites.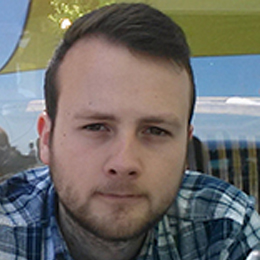 Evan Meyrick - Engineering & AI and Machine Learning
Chairman of the British Space Science Committee
Evan completed a degree in Aeronautical Engineering at Imperial College London and currently works as a systems engineer specializing in information security for unmanned air vehicles and communications networks, with a wider interest in global security and counter-terrorism.
Programme Structure
The 8-day Imperial College London Online Programme has two modules: the first is a 5-day
professional knowledge course; the second is a 3-day Space Design Competition. Studentswill develop creative thinking and skills such as time management and teamwork.

Students will simulate an enterprise in their topic as teams and solve problems related to the construction of the future Space Station, such as space engineering, space settlement, and a future city's financial system. The final design will be submitted and presented to a panel of judges.

Each student will choose one of four topics and spend the first five days led by experts. While working in small teams with their tutors to have in-depth academic interactions, exchangeideas, and gain a profound experience of Imperial College London.
Engineering
Background:There are myriad areas: bio-engineering, nanorobotics, AI, 3d printing, space habitats. We will explore some of these topics along with the less well-known aspects of human and operations engineering. We will emphasize space settlement design to explore future engineering within the industry.
Content:Engineering Wearable Technology | Rocketry 101 | Cybersecurity | Engineering Space EnVision-Venus | Artificial Intelligence | Innovation | Energy Engineering | University Application and Personal Statement | AI and Robotics | Bio-Engineering | Engineering Geophysics | Systems Engineering
Crowd:Students who are interested in physics, chemistry, and engineering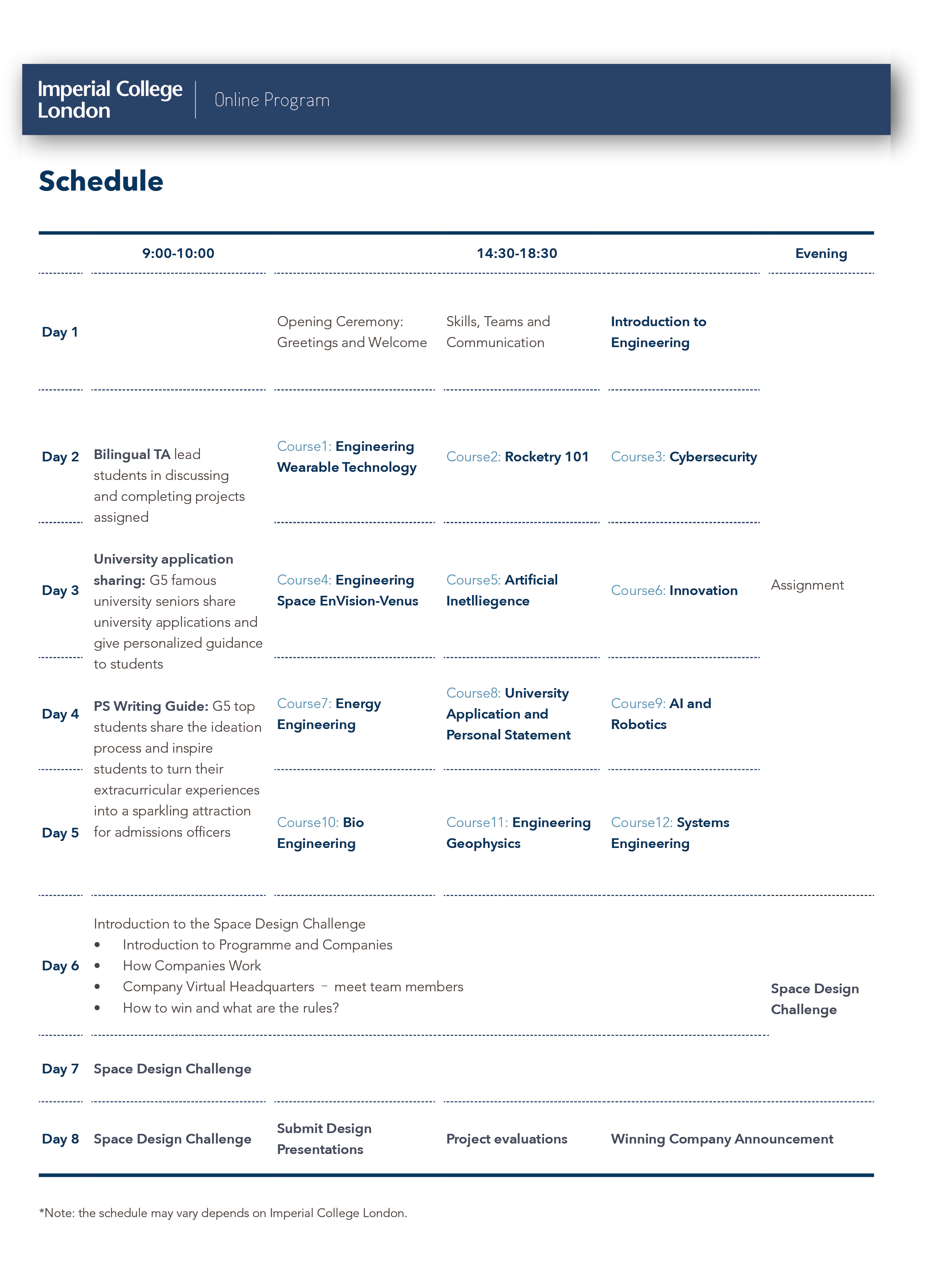 AI and Machine Learning
Background:Throughout this exclusive online course on artificial intelligence, you'll master deep learning, machine learning, neural networks, and the programming languages required to excel in this exciting area and kickstart your understanding and career in AI.
Content:The Creativity Code | Robotics | Autonomous Vehicles | AI System | The Future of AI | Machine Learning | Neural Networks and Deep Learning | AI and Engineering | Wearable Technology | Cybersecurity | AI-Game Changer in Cybersecurity
Crowd:Students who are interested in computer science, robotics, autonomous vehicles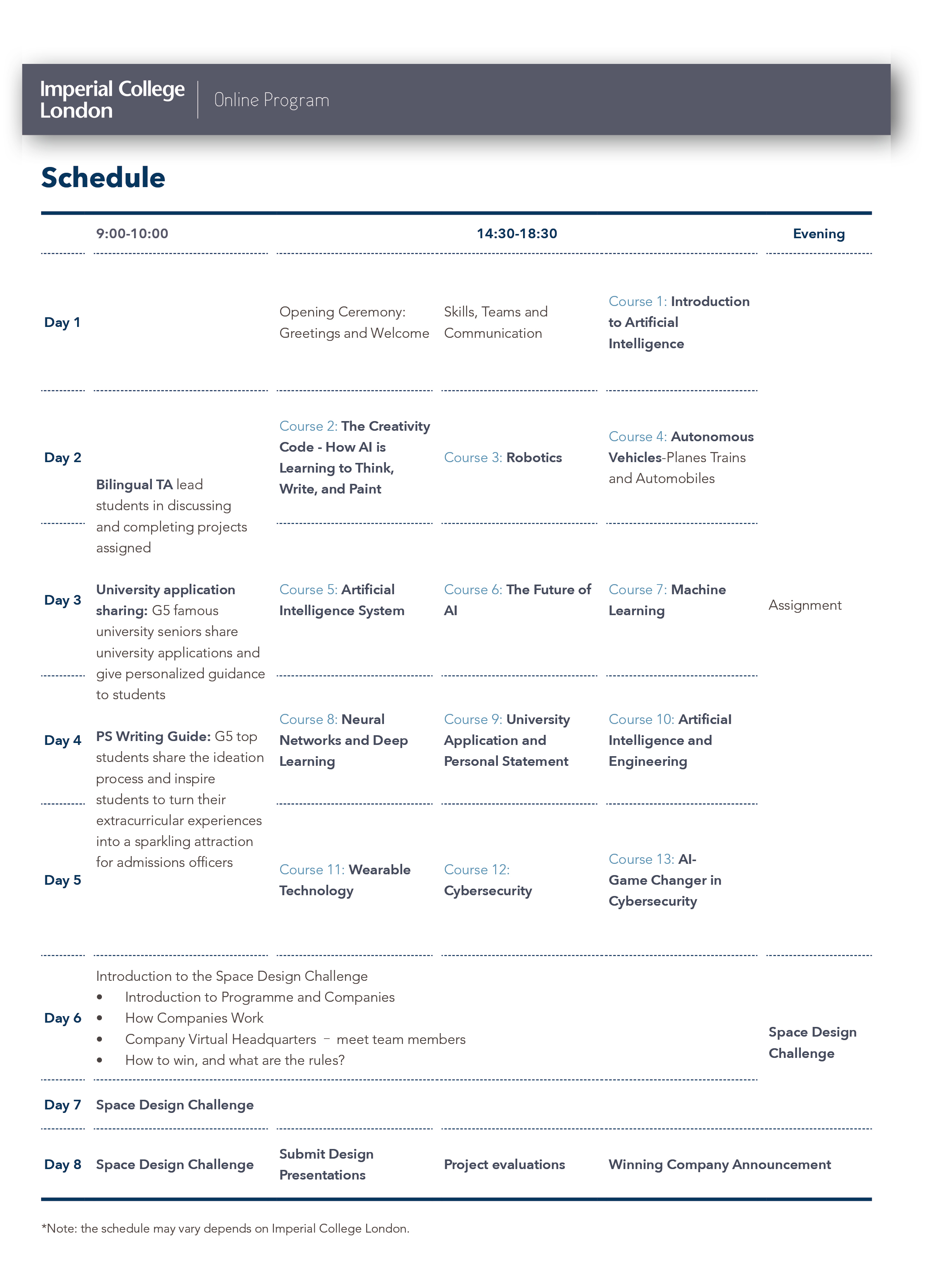 环境工程
背景:帝国理工的生命科学系是欧洲最大的生命科学研究部门之一。同学们将学习生命系统的发展、物种灭绝、保护生物学、气候变化、全球变暖、替代能源和可持续发展的未来战略。
课程生命系统 | 种族生态学 | 物种灭绝 | 保护生物学 | 陆海哺乳动物 | 气候变化 | 温室效应与可持续发展战略 | 生态缓解 | 替代能源 | 疾病生态学 | 人类基因与遗传
适合人群:热爱地理 / 生物、对气候变化、生态学及生态系统保护感兴趣的学生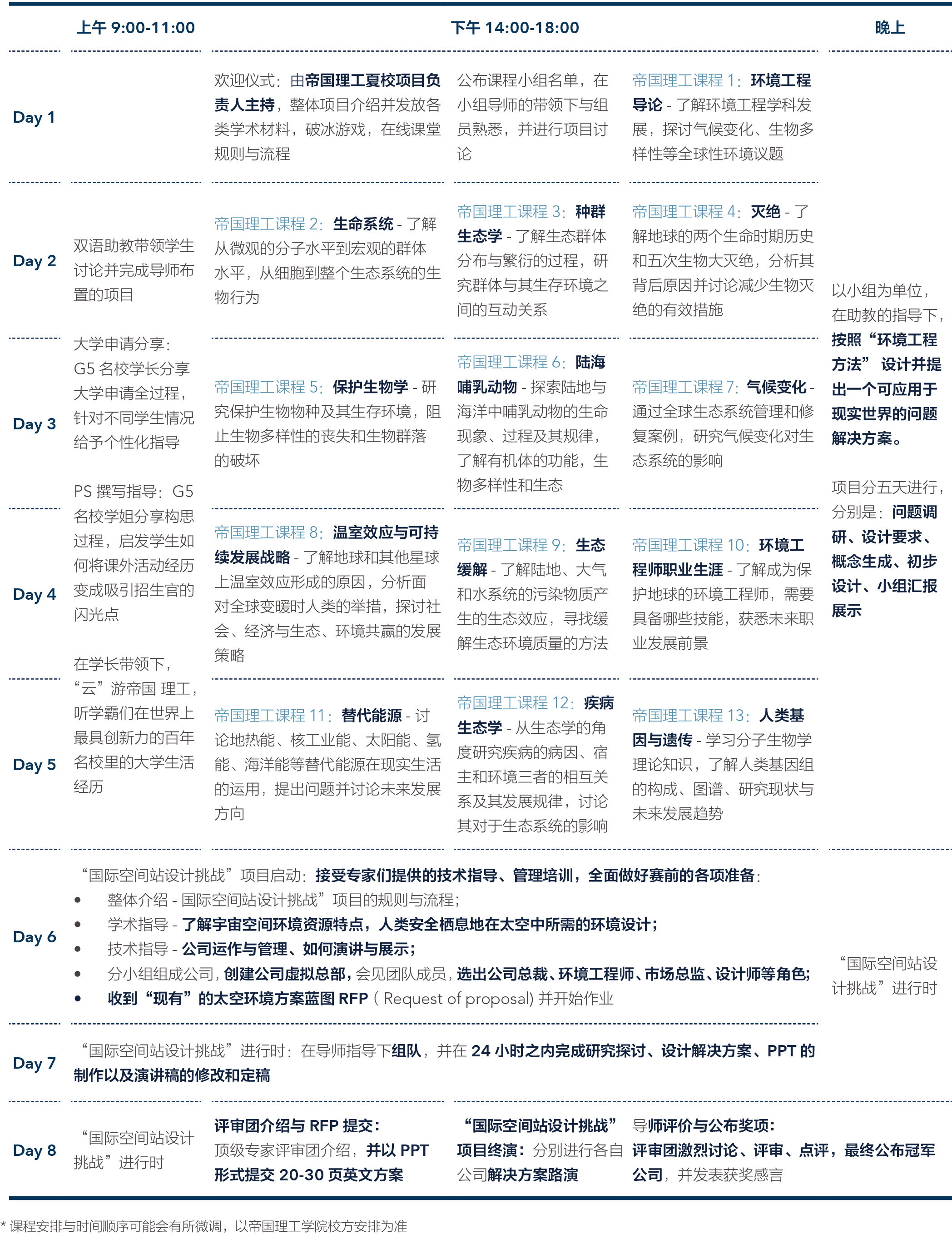 Medical
Background:The program gives you an interactive experience with top doctors, who will guide you through exciting simulations, including dealing with major medical incidences and carrying out and understanding an ECG.
Content:History Taking Medicine | Human Anatomy | Neurology and Psychiatry | Pediatrics | Internal Medicine | Surgery | Suturing Workshop | Pharmacology and Plant Medicines | Infectious Diseases | Radiology | Ophthalmology | Medical Issues in Space
Crowd:Students who are interested in medical, biology, and related subject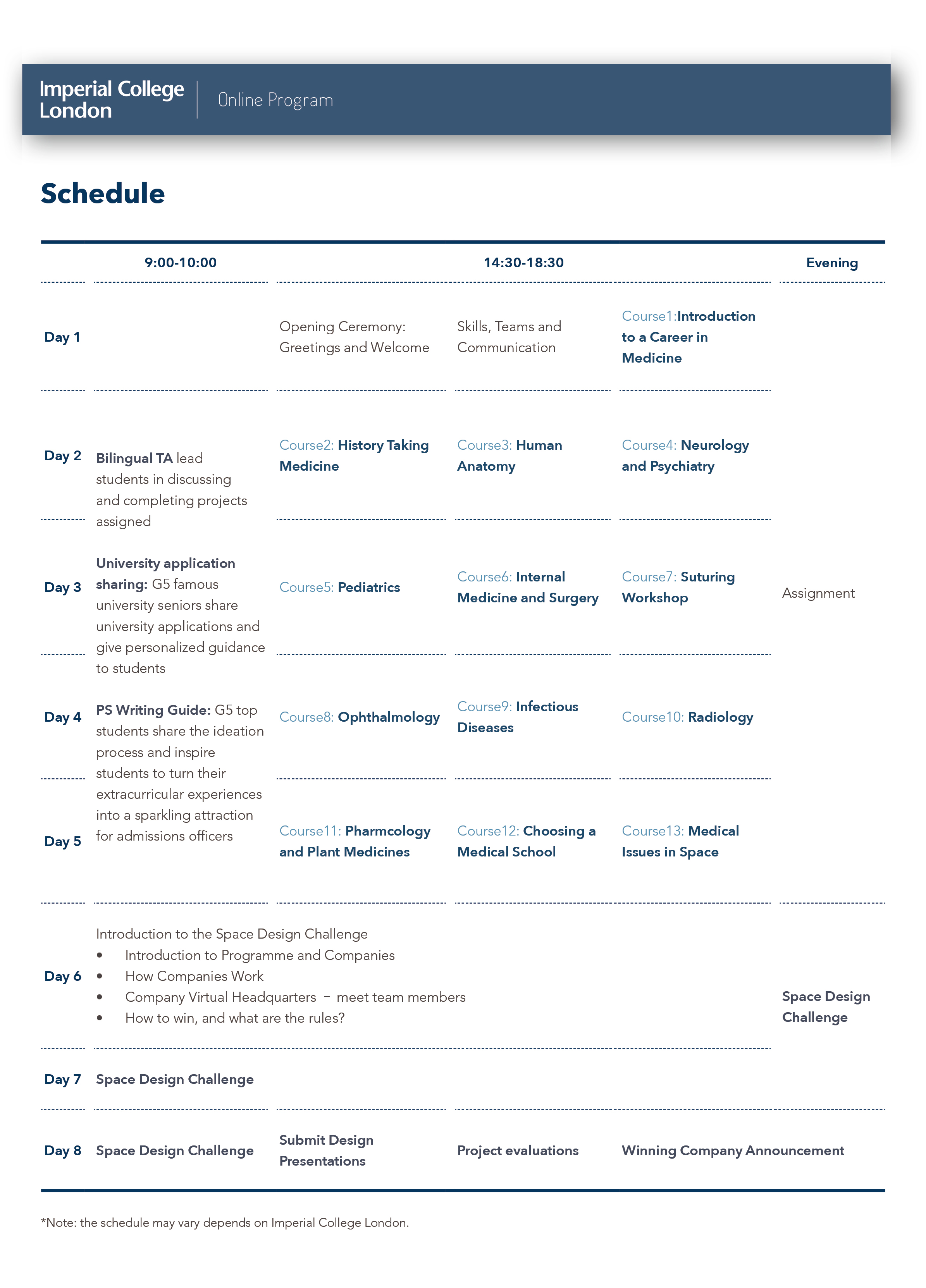 Financial Economics
Background:Learn about venture-funded startup companies, asset management,
investment strategies, alternate currencies like bitcoin, and other aspects of the industry. Discover what a Chief Financial Officer does and how economists forecast the future.
Content:History Taking Medicine | Human Anatomy | Neurology and Psychiatry | Pediatrics | Internal Medicine | Surgery | Suturing Workshop | Pharmacology and Plant Medicines | Infectious Diseases | Radiology | Ophthalmology | Medical Issues in Space
Crowd:Students who are interested in medical, biology, and related subject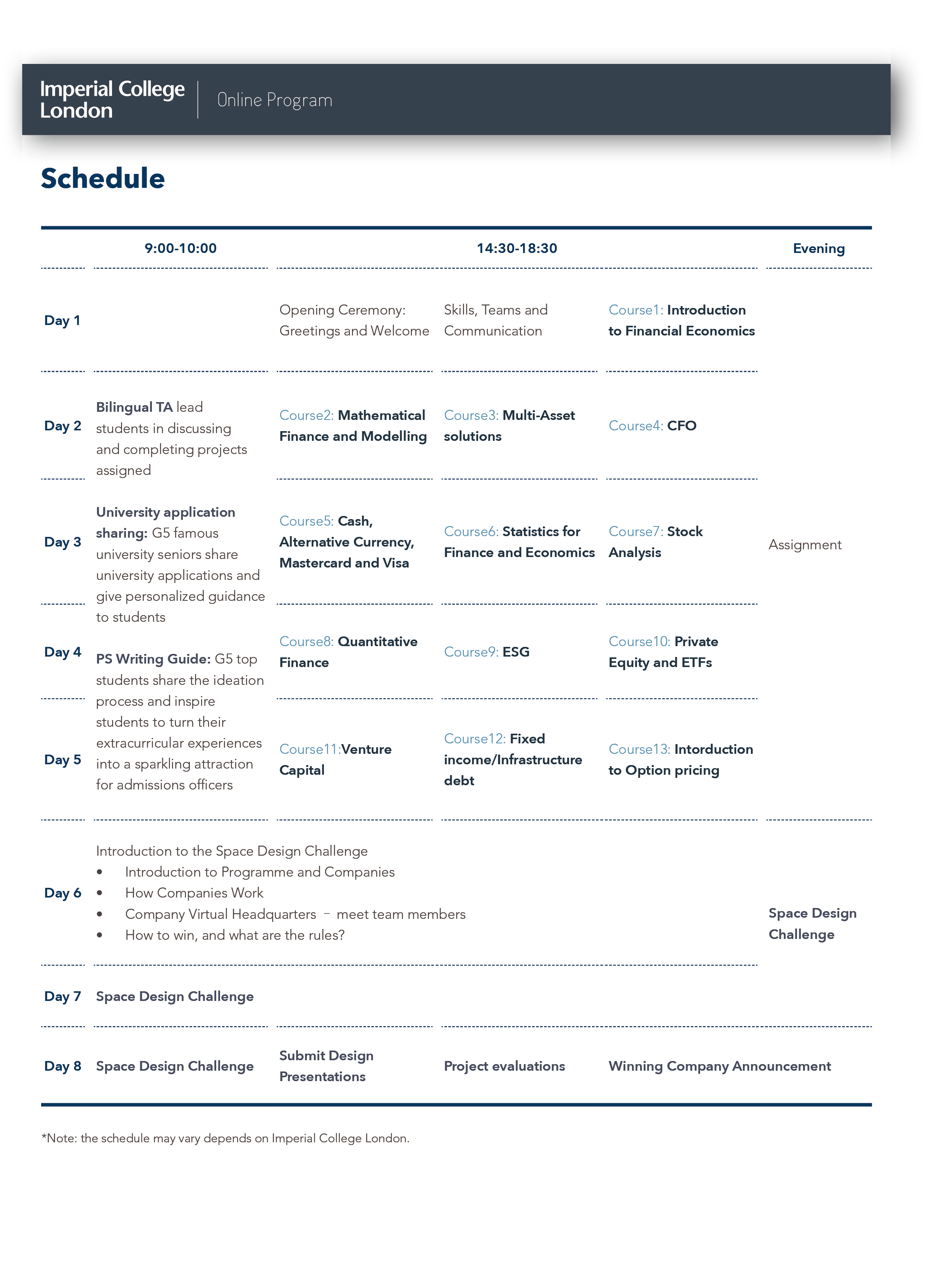 Global Space Design Competition
Introduction
The Global Space Design Challenge is an intensive 3-day competition designed and delivered by top industry and university professionals such as Imperial College London, the only university in the UK to focus solely on science, engineering, medicine, and business. The GSDC is based on the UK Space Design Competition.
This exciting programme provides a realistic industry simulation and controls their own company with the help of mentors. Within 24 hours of receiving the RFP (Request of Proposal) for an existing space environment, students will form companies in small groups to create a virtual headquarters, working as a president, engineer, medical expert, designer, machine learning engineer, financial engineer. They will conduct a series of studies on the International Space Station development, complete a PowerPoint presentation of their proposal, present it in English, expand their cognitive boundaries, and experience the valuable opportunity to work in a large team. Each company will have an experienced mentor in the field as the CEO to guide and advise students.
Competition for 4 Topics
• Engineering —— Build human settlement in space
• Artificial Intelligence and Machine Learning —— Apply the AI to space
• Medical —— Aerospace Medical Research Laboratory
• Financial Economics —— Create a new financial system in outer

国际空间站设计挑战之工程学——在太空建造大型人类定居点
学生将接受学者和行业专家的在线技术指导、管理培训,为参与挑战做好全面准备。学生将运用所学技术知识,解决真正的空间工程问题,即为人类在太空城市中建立大型人类定居点,成为 STEM 挑战赛的首席工程师或空间科学家!

国际空间站设计挑战之人工智能——人工智能在太空场景下的应用
在正式开始设计之前,同学们会得到描述了"现有"太空基本情况的方案蓝图,比赛中根据蓝图打造和设计机器人系统,让人类在外太空快乐生活。机械臂 Canadarm2 曾是在国际空间站中搬运重物、飞船对接和进行维护工作的有力帮手,可以代替航天员进行高危性的太空行走。人类在太空城市定居,无论是建造过程,还是日常生活,人工智能都拥有巨大的潜力和发展空间,如何让地球上已经成熟的人工智能更好地在太空城市中发挥作用,发掘更多人工智能的应用方式,帮助人类更好地在太空城市中生存和发展。

国际空间站设计挑战之医学——太空医学研究实验室
在不同的自然和力学环境下,人类面对气体、温度和辐射等环境条件变化时,往往会引起种种不同的生理反应甚至疾病。学生将探究在太空环境下人类可能面临的特殊疾病,积极探索并寻找先进的医学方法克服"太空病",解决人类生存的后顾之忧。

国际空间站设计挑战之生命科学——设计太空环保城市
为了让人类在太空城市中正常生活,需要建立可靠的生命支持系统,保护定居点周围的栖息地,在栖息地周围进行生态实验。通过对生命科学-环境工程相关课程的学习,学生将尝试从地外生态空间寻找并循环利用资源,处理和解决太空城市发展中会遇到的工业污染等困扰,利用生态系统原理打造环保型太空城市。

国际空间站设计挑战之金融经济——打造全新外太空金融体系
在建造太空城市的过程中,需要大量资金和资源的投入,形成全新的外太空金融市场格局,为了给太空经济资源跨时间、跨星球、并在行业之间转移提供途径,维护金融机构体系稳定,学生将在太空城市创建崭新的外太空金融体系。
Outcome
The students will receive an official certificate from Imperial College London with a certificate of participant award from UKSDC, students who have completed the programme with distinction will gain a special award.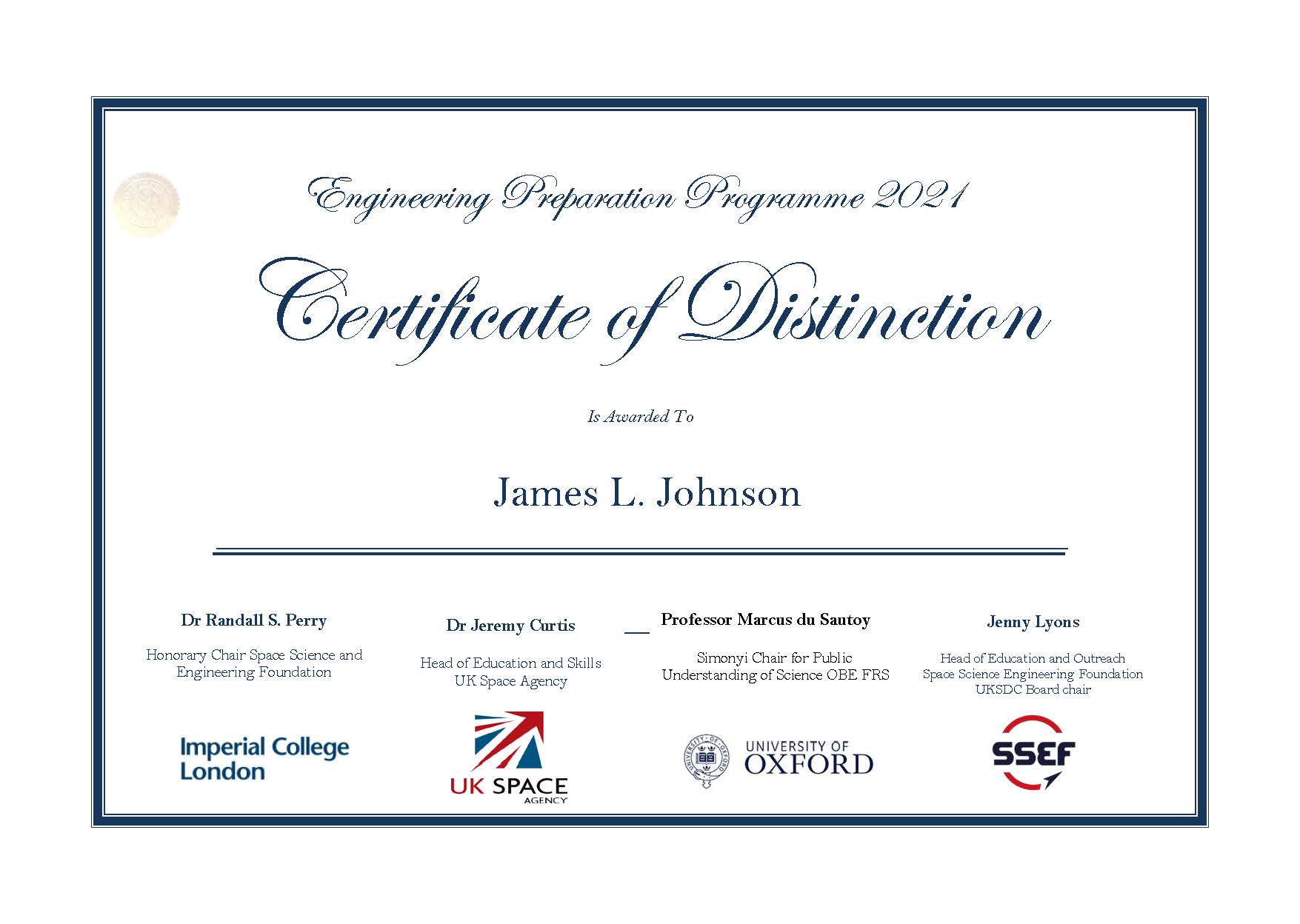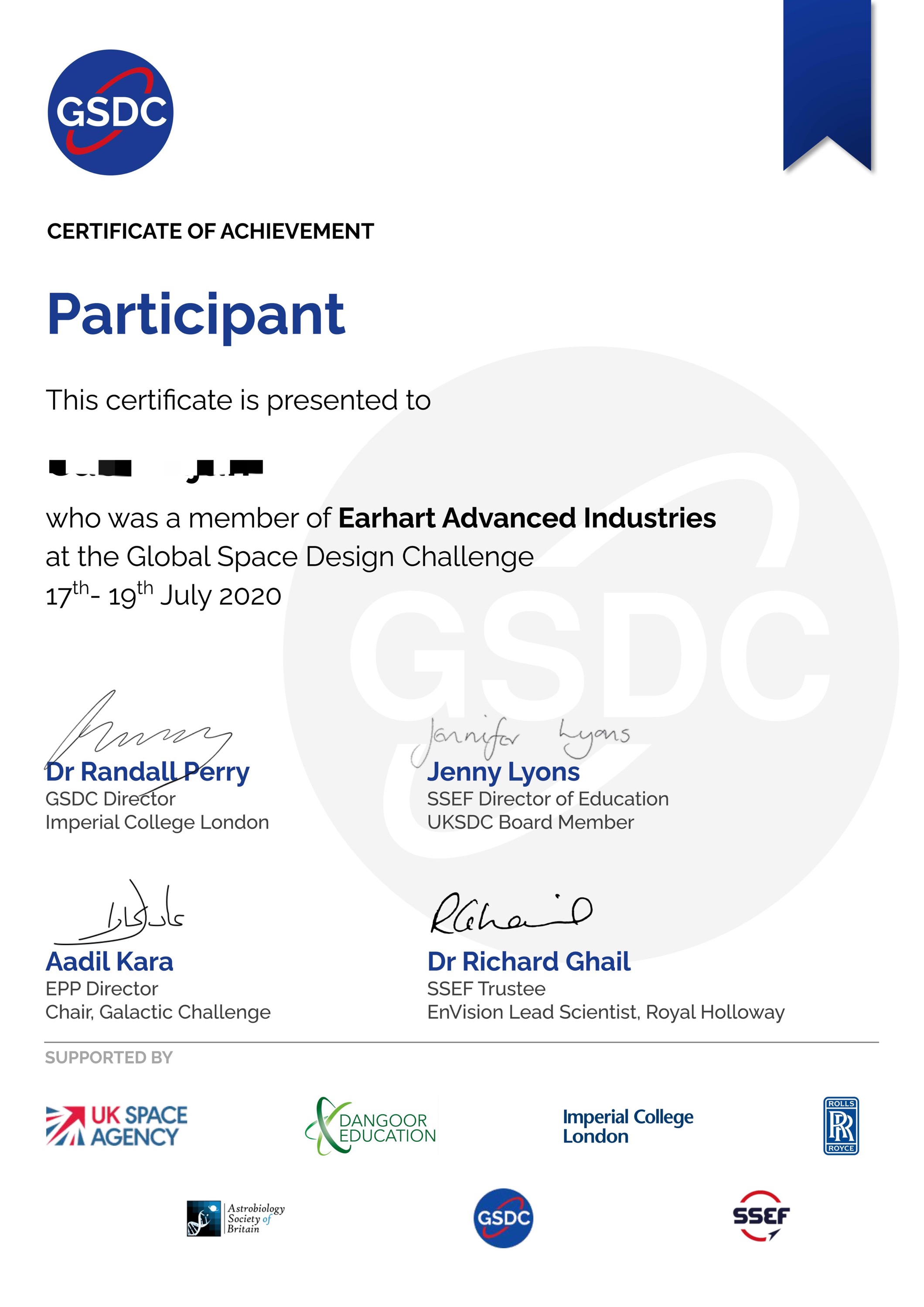 Date:
February 6th-13th, 2022 (8 days)
Grade:
Requirements:
English language level equivalent to IELTS level 6.0 or TOEFL 80

Recommendation letter from your teacher as proof of English proficiency, and a phone interview with an ASDAN staff member (since the programme is conducted entirely in English)

- Priority for Students who have gained an ASDAN CoPE/AoPE certificate

- Priority for Awarded students from ASDAN STEM programme