Microsoft Data Analysis
Operation and development tools used in the world top technology company
Skills Enhancement in data processing, data visualization and data analysis
Chengdu | July 17 - July 23
Microsoft Data Analysis
The application of AI and data profoundly impacts production and life in modern society. As a global business giant, Microsoft has always been a leader in AI. Under the shadow of COVID-19, Microsoft Data Analysis project offer students the opportunity to apply AI in data analysis through systematic learning and practice to meet the current demands of industries. Students who complete the project will receive an ofcial project certicate from the Microsoft Elite Training and Certication Program.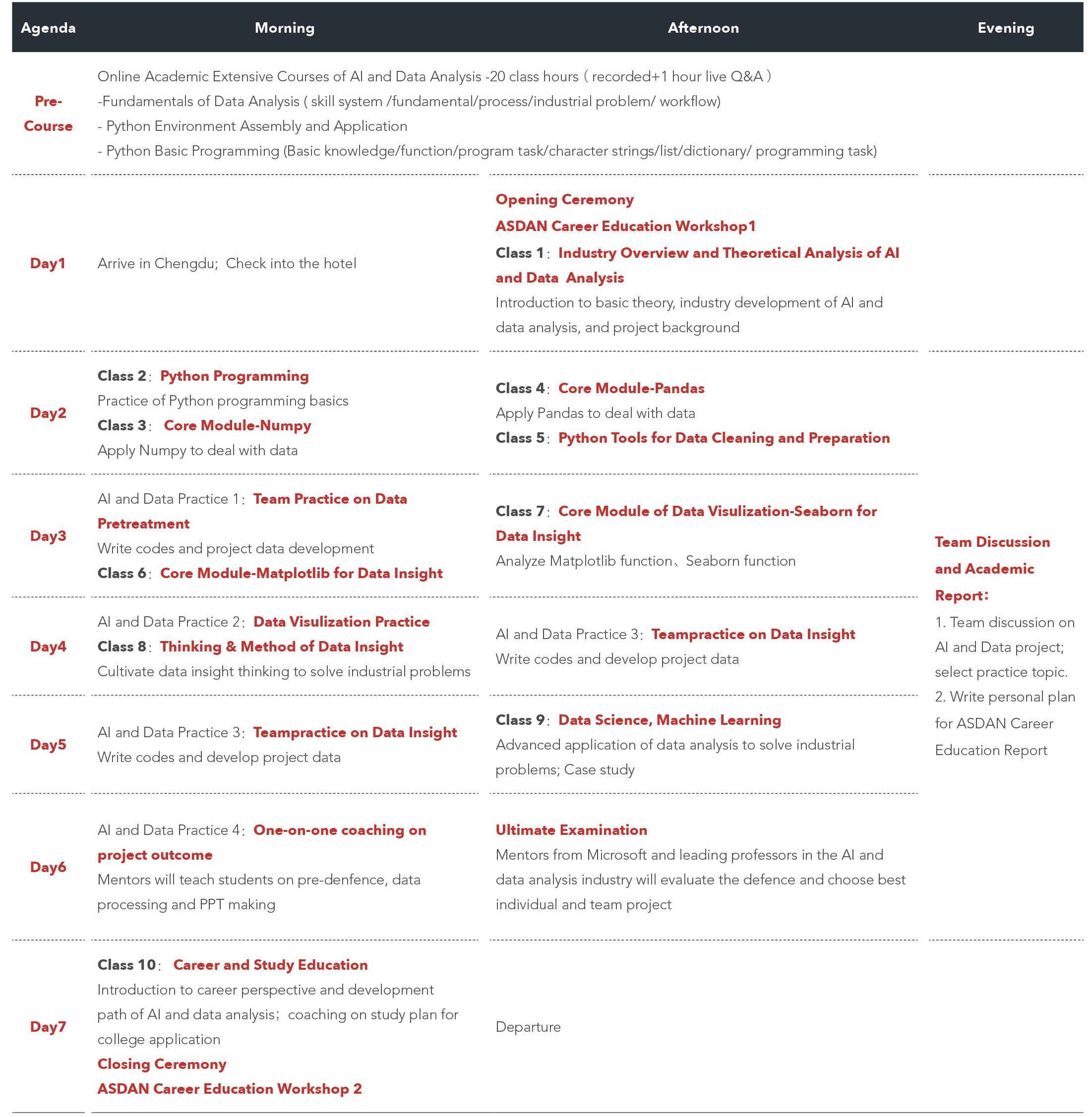 The Microsoft Micromooc is a high-end artificial intelligence certification organization built by strategic cooperation between the Chengdu Tianfu Management Committee and Microsoft (China) Co., Ltd. Micromooc focuses on the cultivation of artificial intelligence talents in subdivided application fields, and integrates deeply with industries such as finance, retail, transportation, and manufacturing. basic course
Professional Career Education

Psychological analysis and career exploration are conducive for students to improve their self-knowledge and knowledge of the external world to seek their suitable future direction.
Courses and practical projects from the world's top 50 universities; expertise and resources shared by the world's top 10 enterprises and senior supervisors.
First-class Courses and Instructors
Project and Problem Based Learning
Career-related task, research & discussion workshops, and instructions from professors to help students improve their problem-solving and teamwork ability. All the programs requires student to produce professional outcome and applications.
Students can choose from professional training courses of the world's top 50 universities based on their interests; they will have opportunity to be involved in social practices and earn achievements, which will provide them with competitive experiences for university application.
Value for University Application
All Major Achiever projects consider cognitive development and knowledge background of high school students, and take advantage of excellent career resources. This makes them the best for youth career education among 14-18 years old age group.
ASDAN Careers and Experiencing Work Certicate accredited by UCAS
Training certicates issued by top companies in the industries
ASDAN Research Programme Certicate accredited by UCAS (Only for completing Grameen Bank Rural Economy Research Project)
Authoritative Certification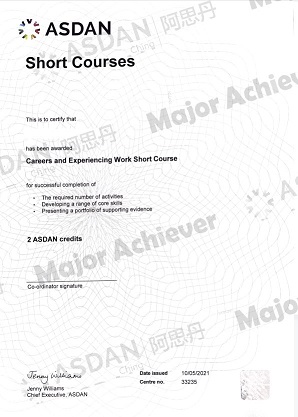 ASDAN Short Course - Career and Experiencing
Program Completion Certificates
Application Suggestion
Students Interest in Computer Science, Data Science, Business, Statistics
Language
Place
Time
Application Process
1. Registration
2. Application Approval and Sign Contract
3. Preparation before Departure
4. VN Career Assessment
5. Start Major Achiever Program
6. Apply Major Impact Internship